Sales & Trading - Other - Retired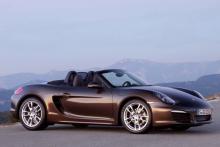 I know we have a lot of gearheads on WSO, and the topic of what car to buy with that bonus check comes up fairly often. With that in mind, I thought you guys would like to see the new 2013 Porsche Boxster that has just been revealed. It's much better looking than its predecessors (IMHO) and it's surprisingly affordable: only $60,000 for the souped up S-model.
I have to admit that I've never been a fan. When the Boxster was first introduced in 1996, it seemed like every douchebag and his brother in La Jolla was driving one. Seriously. It was like every third parked car in that town was a Boxster. And they were not good looking cars. The ass end looked like it belonged on a Fiat.
But the Boxster has evolved, and now looks much more like a classic Porsche (again, IMHO). And for $60,000 I don't think you'll be able to find anything more powerful. Now, I realize it'll be next to impossible to actually find one available for that price in 2013, but you never know, you might get lucky. And the ladies definitely love Porsches.
Here's a quick demo video:

So what do you guys think? Baller, or meh? I think it's a pretty sharp looking ride for the money. But then my last sports car was a 1968 Mercury Cougar (talk about classic styling...). Would you buy one of these for $60,000? How about $90,000 (which is probably what it'll take the first year)? I'm interested to hear from the gearheads on this one. Is this Porsche legit?
Upcoming Events
May 24 2016 - 8:00am

to

May 25 2016 - 8:00am

May 29 2016 (All day)

to

May 30 2016 (All day)

Jun 1 2016 - 8:00am

to

Jun 2 2016 - 8:00am

Jun 8 2016 - 8:00am

to

Jun 10 2016 - 5:00pm

Jun 15 2016 -

7:30pm

to

8:30pm
Poll
Who is your favorite Hedge Fund manager?
Bill Ackman
12%
Steve Cohen
7%
Ray Dalio
17%
Ken Griffin
8%
Carl Icahn
10%
Jim Simmons
5%
George Soros
10%
David Tepper
6%
David Einhorn
9%
Seth Klarman
9%
Other / None of the above
6%
Total votes: 435