3 Methods Bankers Use To Not Get Fat
O
Points)
on 6/26/12 at 2:19pm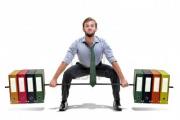 One of the biggest challenges you'll face in your first few years in finance is keeping your weight under control. When you're pulling 100 hour weeks and have $25 a night to spend on food, it's easy to start packing on the pounds.
Let's be clear, when you're turning pitch edits around the clock, the last thing you'll want to do is eat a side salad for dinner.
So, how does one deal with the long hours, the stress, and lack of sleep and manage to stay in some semblance of shape? There are a number of ways....
As someone who came into banking straight out of college and in decent shape, it was important to me to try and not let myself go. Over the course of my career, I've tried, or witnessed, several different methods, each with its own set of pros and cons. Here are some of the highlights:
The Workout Freak Method
We've all encountered the type. The guy who's up at the crack of dawn doing laps at the pool. The guy who's spending his Sundays running half marathons. The dude who's already completed a triathlon. I've found that finance attracts more professional exercisers than any other field. I guess it comes with the Type A territory.
The Pros of being a workout freak are, obviously, that you'll stay healthy and be in great shape. The Cons, however, are that you'll be spending a ton of your free time at the gym, it takes a fuck-ton of dedication, and your less-fit colleagues will probably harbor a secret resentment of you. I suppose it beats lovehandles, though.
The Fad Diet Method
Maybe I've just worked with some oddballs, but I've had several co-workers do any number of fad diets to keep their weight down. Atkins, South Beach, the caveman diet, I've even seen people do stretches of veganism. Whatever it takes to keep the calories down.
As far as I've seen, there really aren't too many pros here. At best, some of the older folks I've worked with can shed a few pounds by drastically switching up their food habits, but the results are usually short-lived. Plus, if you're on the South Beach diet, you'll end up looking like a fool when you eat your sandwich sans bread in client lunch meetings. I've seen this happen, and it's just weird. Don't be that guy.
The 'Never Eat after 7pm' Method
Maybe this one seems weird, but it's generally worked pretty well for me. It takes some major will power, but if you can keep a decent window of time between when you eat your last meal and when you go to sleep, you can usually keep your weight down. If you can also mix in a decent workout three or four times a week, you could be golden. The downside, of course, is that you'll feel like an old head when you're eating dinner at six.
It really all comes down to doing things in moderation. Not gorging yourself on burgers and fries every night and trying to work in a decent workout here and there. Sacrifice a little sleep once in a while or some time on the weekends to get to the gym. Not everyone has the will power, or the desire, to train for marathons, but hitting the gym when you can will provide damage control.
Alternatively, there's always the I don't give a fuck method
This, as you can imagine, consists of maximizing your food intake and minimizing your exercise. You either have a hyperactive metabolism, stay slim, and clog your arteries, or you gain a ton of weight and have to buy new clothes. Either way, as long as you don't give a fuck and get your work done, good on you.
Anyway, I'm curious to hear how others on WSO kept themselves in shape while cranking away for 80 hours a week. Also, how many of you guys have worked with a marathon runner type? Or, better yet, are you that guy? If so, can you feel the quiet resentment your colleagues have for you?