Angry Boss

IB
Points)
on 8/16/12 at 7:00pm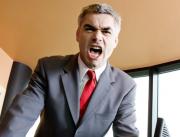 Another dreadful day, loads of requests flying in, the bosses going mad and people keep yelling around for no apparent reason (its still the end of the summer, there should not be this type of disruption yet).
After getting some price issues sorted out and trying to understand one of the factset templates I just received from some associate my phone keeps ringing and I decide to apply a no answering policy for the next 10 minutes (not good if you work in this environment).
My boss eventually walks over to the desk trying to figure out what the hell is going on and after I tell him I am deciphering the associates work and cant get it done any faster he runs over to the poor guys desk and yells at him for sending me a template I dont understand how to use. Then he returns and yells at me for not building my own template. 15 minutes later when I answer the phone he yells at me for the fact that the folder are saved the wrong way (been done waaay before I joined the place like that...go figure). This just keeps going the whole day and the only end in sight is in the evening when the the guy takes off...he actually then comes over and tells me I am doing a great job, I am hungry and the usual bla bla..
I dont think I am bothered too much by all the yelling etc. but I have seen this happening to others and quite often hear much worse stories from other places. I am just generally wondering how to best handle a boss like that without going awol on him, starting to get aggrevated or hate my work (which most of us do already anyways, but whatever).
Any quick suggestions more than welcome, how have you delt with your hot headed boss before?
Have a good weekend
"too good to be true"