Bonus Bananas August 17, 2012
ST
Points)
on 8/17/12 at 9:45am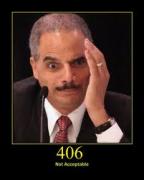 1) Morgan Stanley Unit Fined Over Trader's $1.3 Billion Bet (Bloomberg) - Alright, this one is just baller. This 31-year old trader had a $116 million trading cap and he got a wild hair up his ass one night and ran up $1.3 billion in trades. When the dust settled, he'd only lost $15 million (oh yeah, and his job). Why not roll the dice every once in a while? I'm gonna see if I can get this guy to do an interview for WSO.
2) Goldman Non-Prosecution: AG Eric Holder Has No Balls (Rolling Stone) - No brains either, from the look of it. It seems the only way the DOJ will go after a major white collar crime is if the evidence is absolutely incontrovertible and the perp shows up on their doorstep screaming a confession. What the hell are we paying these guys for?
3) No Criminal Case Is Likely in Loss at MF Global, Corzine Mulling New Hedge Fund (Dealbook) - Oh, for fuck's sake...
4) Facebook Inc. (FB) Using State Law to Close Instagram Deal Without SEC (Insider Monkey) - Facebook is getting pretty desperate now that it's a public company and the stock is off 50% from IPO. All those highly-valued shares they promised Instagram are getting uglier by the day, and now the company is trying to do an end run around the SEC to get the deal closed before the stock is worth even less.
5) Stick a Fork In It: Dell Is Done (Pando Daily) - Sounds like Michael Dell has bigger problems than his teenage daughter's Twitter account. After all these years, is Dell finally going down for the count? It's hard to imagine one of the earliest major successes of the computer era taking the dirt nap, but anything's possible.
6) It Is Hard to Hide from the Web (AVC) - Romney choosing Paul Ryan as a running mate surprised a lot of people. You wanna know who it didn't surprise? Fred Wilson. Here's why, and why you're foolish to believe you can hide anything from the Internet.
7) Executive pay clawbacks: Just a shareholder pacifier? (Fortune) - Clawbacks might make the public feel a little better, but are they really effective? Probably not. But with prosecutors' utter unwillingness to go after any but the easiest slam-dunk criminal cases, maybe clawbacks are all shareholders can hope for.
8) Who's Behind the Anti-Islam Ads on MTA and Muni? (Mother Jones) - I'm posting this because I think it's a pretty interesting examination of what constitutes free speech. You NY monkeys have probably noticed these ads. They're pretty out there, but according to this judge they're protected speech.
9) Ecuador Grants Assange Asylum (Wall Street Journal) - It's gonna be interesting to see if he makes it out of Ecuador's London embassy where he's been holed up for the past couple months.
10) He should be dead! Drunk driver, 24, had 0.627 blood alcohol content--TWICE the lethal dose (Daily Mail) - Holy shit. Just...holy shit. I've had some pretty epic benders in my day, but this is just crazy.
Video of the Week:
We're definitely experiencing a dearth of halfway-intelligent comedies in this modern Judd Apatow era. Movies like In Bruges, Lock Stock, Snatch and other sophisticated dark comedies don't come around very often anymore, and that's why I'm looking so forward to this one. Seven Psychopaths is actually written by the same guy who wrote In Bruges, and the cast is dynamite. Check it out:
That's it for this week, monkeys. Let me know what you think about this week's bananas in the comments, and as always, have a tremendous weekend!