Crazy Chinese Doping Conspiracy Theory
IB
Points)
on 7/31/12 at 10:30pm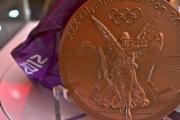 As I was watching and reading about Ye Shiwen, the Chinese swimmer who blew away her personal best time and set the world record in the 400m individual medley in London, I wasn't really surprised when discussions began as to whether she was doping. Be it sour grapes or a legitimate accusation, the issue always comes up. But then I remember reading about how the Chinese athletes athletes don't eat anything other than government-provided food. I put on my tin foil hat and started thinking about the possibility that China is engaged in a systematic effort to juice their athletes.
<!—break-->
The Chinese government doesn't joke around when it comes to its athletes. The country has an entire government bureau dedicated to sports. Athletes are picked at a young age and sent off to live at government academies where their entire lives revolve around their particular discipline.
This is where my theory starts. The Chinese government has complete control over its athletes, and would leave nothing to chance when it comes to ensuring that they bring home gold medals. Given the substantial effort it, unofficially of course, puts into hacking the networks of foreign companies and governments, I think it is completely plausible that the top Chinese scientists are hard at work developing new ways to juice their athletes in ways the current anti-doping agencies can't detect.
But wouldn't the athletes have objections to taking performance-enhancing drugs? Of course, but that assumes the athletes actually know they are taking them. Under the guise of protecting the team from accidentally eating food tainted with the various chemicals that time and again seem to find their way into the food in China, the athletes eat only what the government provides.
"The food is totally reliable here at the base," said Ye Zhennan, manager of the national gymnastics team, during a media session last Friday. "But no one knows whether it is safe or not in other places. So we don't allow them to eat out.
They aren't even allowed to eat at the cafeteria in London.
With the food supply completely under the control of the government, it is free to add whatever it wishes. State-owned companies do the R&D and tests on an in-house team of human guinea pigs to make sure that the final product, when added to an athlete's food, isn't detected by the current tests. The athletes and coaches are none the wiser. They are simply pawns in the larger political game of winning as many gold medals as possible as a part of the larger strategy to project China as the world's next all around superpower.
What are your thoughts? Is this idea just worthless drivel, or do you think it has some merit to it?
!—break-->