Day 4: SWAG, DO YOU HAVE IT?

PE
Points)
on 7/10/12 at 8:30pm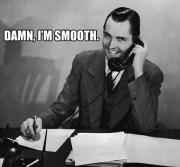 I believe that we can also become the better version of us. To me being articulate is very important. In order to say the right things, you need to have a better understanding of human nature. You need to understand what people want. An idea is not just a word or a phase. It is composed of deeper understanding into human psychology. A word is not just a word. The carefully chosen word reflects exactly what you are feeling. My preferred choice of words expresses who I am as an individual. They form ideas, express feelings and define who I am. Let me go through an example with all of you.
So I remember a lady asking me "Am I pretty?" I don't remember how old I was so let me talk about this in term of levels. I don't think that when you move up to the next level means that it's a good thing. But it definitely demonstrates a deeper understanding of the world around you. So here it goes.
Level 1: I don't think you are pretty.
Honesty. It's great. I think most of the time people want honest people. But that wasn't what she is looking for. Most people go through live thinking by being honest, things will be easier. They think that they shouldn't care about other people's feeling because "hey, at least I am honest". But is this the best way to deal with people in life? Maybe not. Next step.
Level 2: I think you are really hot.
Flattery. Most people will accept flattery. Hey you makes the other people feel like a million buck. There is no way that they can hate you right? True. Most strangers will accept that as a good answer. But is this the best answer? Can you always kiss ass your way through in life? Have you really thought it through whether that is something they are looking for? Maybe people expect honesty from you? You can't go around in life, lying to people in the face.
Level 3: I think you got great blue eyes.
Honest Admiration. I think this is a pretty good understanding of human nature already. You actually take the time to observe the other person and know how to compliment the right way. You pick a feature that she is most aware of. She is flattered. She knows that you are being honest. She admires that you take your time to learn more about her. But is this the best answer? What is she really looking for? Let's consider the next level.
Level 4: You got awesome personality and great outlook on life.
Spiritual Connection. This is more mature answer. You demonstrate that you have overlooked physical appearance and connecting with her at a deeper level. You are seeing the inside of her that she desires so much for people to recognize. Maybe she grows up with people talking to her just about her looks. She got tired of being just a pretty face. She wants people to recognize that there is more to her than just that. Now you are hitting the right spot. But is this what she really want? Can you go up another level?
Level 5: I love you the way you are.
Acceptance. In the end of the day, everyone wants to be accepted for who they are. No one is perfect. People want to be accepted despite their weaknesses. They want to be with you without being judged. Maybe we cannot do everything right but you want a relationship where someone accept you, and all of you because that's exactly what we want from our family, friends, and lovers. We want to be who we are. But is this the best answer? Maybe not. Maybe there is a better way to say things.
My point is that you need to look at life like this. Always learning to have a better answer. Having a better answer is not just to become more socially accepted. It's not about being a politician and charming your way through. Knowing how to say the right things will make you a better person. You will understand the world in a deeper level and be able to connect with those around you naturally. It's an awareness that will set you free. So try to become more aware of things around you. Have an awesome day.
My Story:
Part 1: My Pursuit of Happyness
Part 2: My Pursuit of Happyness
See my previous posts in this series:
Day 1: To Be A Better Man
Day 2: Healthy Competition Among Mature Men
Day 3: I HATE YOU
Day 4: SWAG, Do You Have It?
Day 5: Word of Advice
Day 6: 10 Important Life Lessons
Day 7: Unofficial Guide to Banking & Dating
Bonus: Previous Useful Posts
Tags: