Debunkery: A Monkey's Review

HF
Points)
on 6/21/11 at 8:34am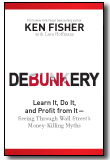 Ken Fisher has some kind of stigma attached to him these days, supposedly for being an overoptimistic perma-bull. His latest book, "Debunkery," gives the methodology behind his views.
The book tears through about thirty-something "Wall Street Myths" ranging from relatively well known concepts like "bonds are safer than stocks" to stop-loss options, well, stopping losses. These are all conventional rules of thumb that many people subscribe to without really thinking about them. Mr. Fisher then mercilessly pounds every seemingly impervious logical construction into sawdust, all with a clearly articulate sense of glee that comes through in the writing.
I have been reading Fisher's columns in Forbes magazine for years, and I've also attended some of his conferences. The guy thoroughly does his homework on both the technical and the fundamental sides and can really challenge other views on investing, something that happens all too rarely.
No topic is safe; "Debunkery" runs through subjects as diverse as gold, consumer confidence, volatility indices, and presidential election cycles. The most interesting idea I got from it can be summed up in his words: "Averages are just that--averages. Don't be afraid of volatility."
He makes no secret of his contempt for many statistics, including the price-weighted Dow (which only accounts for about one-third of the U.S. economy) and the Consumer Confidence Index (which only gives a view of how people thought the economy was doing around the middle of the previous month, which is of dubious utility).
I would recommend this book to anybody who is tired of hearing and seeing mass hysteria over some economic numbers that don't add up to much upon close analysis. Read up, monkeys! This is a good one.
Monkey's Review 1: Barbarians At the Gate
Monkey's Review 2: The Financier
Monkey's Review 3: Decision Points
Monkey's Review 4: Debunkery
Monkey's Review 5: When Genius Failed
Monkey's Review 6: Monkey Business
Monkey's Review 7: Death Of The Banker
Monkey's Review 8: A Journey
Monkey's Review 9: Damn It Feels Good To Be A Banker
Monkey's Review 10: The Quants
Monkey's Review 11: All About Hedge Funds
Monkey's Review 12: The Unlikely Disciple
Monkey's Review 13: Adventure Capitalist
Monkey's Review 14: The Hedge Fund Book
Monkey's Review 15: Investing In Hedge Fund of Funds
Monkey's Review 16: Hilarity Ensues
Monkey's Review 17: The Prince
Monkey's Review 18: Markets Never Forget (But People Do)
Monkey's Review 19: The Money Culture
Metal. Music. Life. www.headofmetal.com