Dems Propose $150 Billion Tax on Wall Street
ST
Points)
on 11/24/09 at 6:32pm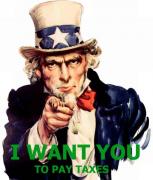 A couple of the more liberal Democrats in Congress are introducing a bill with the catchy title, "Let Wall Street Pay for the Restoration of Main Street Act of 2009". Spearheaded by Oregon Rep. Peter DeFazio (you know, the guy who called for "Timmy" Geithner's head on a platter the other day), the bill proposes to add a 25 basis point tax to virtually every financial transaction, including stocks, options, derivatives, and futures.
I think the gentleman from Oregon is forgetting a few things. First and foremost, when has Wall Street ever absorbed a new tax without passing it on to the end user? Let's be honest. Any increase in Wall Street's costs are going to be shouldered by Main Street somewhere down the line. Second, the purpose of the proposed new tax couldn't be more nebulous. Half the money is supposed to go to paying down the deficit when members of DeFazio's own party are doing their dead level best to increase the deficit to absurd levels. Second, the other half of the money is supposed to go into job creation. Correct me if I'm wrong, but increased taxation results in job destruction last time I checked.
The stock tax measure specifies that tax revenue would need to support jobs that pay at least the median wage in the United States, promotes manufacturing jobs and prohibits any recipient of the $700 billion financial bailout from directly benefiting from the job reserve fund.
Just so we're clear: this proposal will effect just about every American taxpayer with a 401k (retirement funds are supposed to be exempt but don't bet on it) in order to foster a few thousand highway jobs. As for paying down the deficit, the party in power has only displayed a compunction toward increasing the deficit, so I don't buy that either.
This sounds to me like another naked ploy to channel populist rage into increased socialism at a time when the country needs the free market more than ever.