Finance or Comedy? Which Career Should I Choose?
O
Points)
on 7/11/12 at 8:09am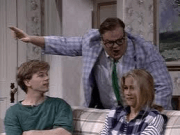 Chris Foley, Jester of Wall Street" is the title of an article written by Venessa Wong of Bloomberg BusinessWeek on June 21 of this year. The subject of the piece, Mr. Foley, left his lucrative position as a stockbroker to become a standup comedian. Ms. Wong reports that when Mr. Foley made the most money, he was the most miserable. He gives new meaning to the misery index, taking it to a level that had never occurred to Jimmy Carter.
Here is a sample of both the article and Mr. Foley's comedy from his one-man show:
Chris Foley was so stressed working as a stockbroker that in 2008 he started getting Botox injections in his armpits to reduce perspiration. He developed rashes and suffered through a monthlong bout of diarrhea. His body, he says, was telling him he was in the wrong profession.
I attempted to find other examples of Mr. Foley's comedy on YouTube, but my efforts led me to Matt Foley, motivational speaker, instead. (Chris Farley is not forgotten.)
Chris Foley had dabbled in standup comedy during his thirteen years of work as a stockbroker, but when he was laid off in 2010, the opportunity presented itself for him to devote more energy to his true calling.
Which reminds me of Paul Gauguin. The School of Visual Arts, in an attempt to attract working professionals to attend the school (an art school located in New York City, a few blocks away from Baruch College, which ironically specializes in business) came up with the idea of using Gauguin's personal history to sell the school. Early in life, Gauguin was a bank teller. Later on, he found his true calling as an artist--painting with Vincent Van Gogh, moving to Tahiti, and so on. Another artist who abandoned finance (as well as his wife and children) for the glamour of pursuing a more exotic, artistic goal.
I find myself moving backwards compared to Foley and Gauguin. Rewind the tape. I am saying goodbye to art in an effort to find a new career in finance.