Gold: Buy, Sell, or Hold?

Points)
on 6/2/12 at 11:00am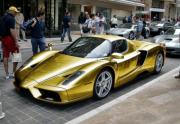 Gold may have blown away stocks,
bonds, and practically ever other risk asset for the past few years, but if you were late to the party, chances are you got shafted pretty bad - in May alone it dropped 6%.
With yesterday's climb however, goldbugs and skeptics have fueled debate once again.
What do you think monkeys? Is this time different? Will this rally grow legs? Or is this just another blow-off?
There are a lot of good arguments
for going long; short interest has gradually fallen from their highs,
and all the late shorts will probably be scrambling to cover after yesterday's
spike. The Fed may be happy to stand pat and fix its eye on CPI, but with unemployment as it is, I highly doubt they'll continue to ignore it. Supply and demand is still out
of whack thanks to China, and of course, let's not forget the world's ever-worsening debt problem. Hell, if you think about it, practically nothing has
changed since we started touting it 2 years ago.
The cons? I'll leave that to this
guy.
So what do you think monkeys? Is
gold still a buy? Or was Warren Buffett right about it all along?

Have a good one WSO.
People like Coldplay and voted for the Nazis, you can't trust people Jeremy