How to deal with THAT associate

PE
)
on 9/11/14 at 7:30am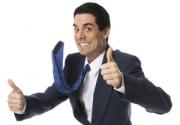 TBT: Originally posted on September, 2012
Props to bankerella for an insightful post delving into the mind of the newly-minted first-year investment banking associate. The only thing it was missing was a blanket apology for all of the seasoned analysts who, for the next few months, have to put up with the insufferable "value add" of their MBAed colleagues.
Analysts, if there's anyone you shouldn't be afraid of, it's a bumbling first-year associate fresh out of b-school. Remember, you already do all the work around here – make it clear that until they find their footing, you will be running the show.
When speaking to a new associate:
The MD likes the comps in this exact format, with these metrics."
Do not attempt to "add value" by "adding work.
---
"I've double checked the numbers, but will wait for you to sign off before printing and sending."
I did not check these numbers at all. Please do your job and check them.
---
"I find it 'helps' to pop out the F1 key."
Are you a fucking idiot?
---
"Usually, the MD doesn't check his email after 9 pm. We should just send to him first thing tomorrow."
Please don't try to be a hero. The MD will not look at this until next week.
---
"I'll take the model and comps, you can do the bullets – I'm sure you'd be faster at that anyway."
Save me time by taking over the text you were going to make changes to anyway, and I'll save you the embarrassment of asking me to help you balance a basic LBO model."
---
"This is quick and dirty, but should be directionally helpful."
This is completely made up. It's going to be up to you to bullshit your way through the explanation.
---
"Have a quick question. Just called your cell – I'm at my desk."
Calling you on your empty offer to 'let you know if you have any questions or run into any problems.' If and when you actually call back, I plan to befuddle you with an obscure pension accounting question.
---
"This is going to take me awhile to get to, I am jammed on a few other things right now."
Quit trying to rogue staff me.
---
You could have taken 5 minutes out of your brickbreaker session to look that up yourself.
---
I finished this three days ago, and have been sitting on it since.
---
Fuck you.
---

When speaking to your MD about the new associate
"The associate is new to the team, and is still getting up to speed on this."
The new associate is useless.
---
"It's good to have another person to pitch in on this."
The new associate is needlessly creating work in an attempt to impress you. Please, I beg you, stop the madness.
---
"We work together well as a team."
The new associate is getting crushed on a different deal, so s/he hasn't had time to create work on this deal.
---
"I think I can handle this on my own – no need to get associate staffing."
If you tell me I am getting staffed with a new associate, I will promptly go back to the bullpen and light myself on fire.
---

Aaron Burr is a retired investment banking analyst and currently works as an associate at a private equity fund. He salutes all non-useless first-year IB associates – let him know if you do too in the comments section or at [email protected]