How your competitors are beating the GMAT

IB
Points)
on 6/19/12 at 12:37am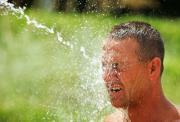 I've watched as many of my friends and acquaintances screwed up the GMAT due to defeatist thinking and extremely bad advice. They also spent a ton of money and effort, got little or no payoff, and walked away wondering if there was an intellect gap between them and the people who did well.
In my previous blog post, "How to Hose the GMAT", I shared a model designed to help people arrive at failure more quickly and cheaply, and with less damage to self-esteem. But it's a terrible business model. Turns out that nobody actually wants to end up with median scores or get one of those fab Ivy-league part-time certificates. (Go figure.)
So why do some people still end up going down this path while some don't? What's going on in people's heads on both sides?
Before I continue: credentials. I coached myself to a 770, then coached two friends to a 770 and a 760, each of us with different strengths and knowledge gaps. None of us were geniuses. We all took the test in the US, didn't cheat, and didn't get extra time.
Let's get started.
Hose-the-GMAT strategy #1: Think outside the box.
"Geez, my first practice test didn't go so well. This is really hard. Maybe I'll just take the GRE and apply to some part-time MBA programs or do an MSIS at a state school. Not only will I save money, I'll also save effort. The education's just as good, right guys? Guys?"
Your competitor's strategy #1: Don't be in such a rush to bow out.
"So I have a long way to go. But I need that score. It's not negotiable. So I'm gonna rip that fucker a new asshole regardless of how much money and effort it costs me."
Hose-the-GMAT strategy #2: Don't set a target up front.
"I want to keep this relaxed, so I'll just land wherever I land and that'll have to be okay."
Your competitor's strategy #2: Take aim. Don't waver.
"I have three digits on an index card taped to my monitor. If I don't see those three digits on the screen at the end of my test, it's not okay."
Hose-the-GMAT strategy #3: Take a long-range view.
"I haven't been able to fire on all cylinders yet because of work, and I have a vacation booked, but it's not the end of the world if I just push it to next year. Even two years wouldn't be the end of the world. I have plenty of time."
Your competitor's strategy #3: Floor it and keep it there.
"Regardless of the consequences, this has to be my last pre-MBA year. I don't care what I have to walk away from, I'm not staying here."
Hose-the-GMAT strategy #4: Don't try to go it alone.
"Thank goodness I have other people to tell me what good looks like and to help me think like everybody else."
Your competitor's strategy #4: Play a pure game.
"Are these guys taking the same test I'm taking?"
Hose-the-GMAT strategy #5: Find a practice schedule that fits your life.
"Some people say I should be doing a bunch of hours every day. But I have work, a girlfriend, friends, trivia night, and basketball, so I can't do that. Thankfully, I found a bunch of guys on the forum that say you can do less time per day for more days, so it's cool."
Your competitor's strategy #5: My life needs to fit the GMAT.
"I'll see you guys in a couple months. Love you, babe. Peace."
Hose-the-GMAT strategy #6: Know what "median" looks like, and do what it takes to get there.
"Median is not bad. Half of the students at a school have to be below the median score. I know most of them have unusual strengths and talents to make up for it, but there have to some truly average admits. I can fit right in that sweet spot."
Your competitor's strategy #6: Know what the top of the school's range is, and do what it takes to get there.
"I have no idea what the median is. I just know that if the range says 690-770, and I have a 770, it's good enough."
Happy Monday, folks. Deeper and more detailed stuff comes later, including:
A recommended plan of battle that worked for all three of us
The stickiest GMAT mnemonic ever
How and when to raise your score by fucking up faster
Why I dumped my coach
Why I regretted it
Some little techniques that hurt like hell but work.