Is Marriage Useless Today?
ST
Points)
on 11/17/12 at 7:30am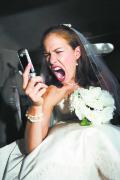 mod (Andy) note: "Blast from the past - Best of Eddie" - This one is originally from November 2010. If there's an old post from Eddie you'd like to see up again shoot me a message.
Has marriage become obsolete? According to a recent Time Magazine/Pew poll, 40% of Americans believe that marriage is obsolete today, and 44% of Americans under 30 believe the institution of marriage is soon to be extinct.
I can't think of a better topic to write about on my 8th anniversary.
You guys know how I feel about marriage from a practical standpoint: there's no percentage in it. Clearly, Prince William is not a WSO reader. All joking aside, though, is marriage dead? For someone in a lopsided income/asset relationship (where one partner earns or is worth far more than the other), how could it be to the advantage of the more financially successful partner to get married?
An entire cottage industry of lawyers dedicated to busting prenuptial agreements has sprung up over the past decade, so even that last line of defense is no longer impenetrable. And I never thought pre-nups were a good idea in the first place. Marriage is hard enough to keep together without an easy out hanging over its head.
The social stigma attached to being unmarried is now all but nonexistent (especially for men). Eight times as many children are born out of wedlock in America today than were in 1960. And only 26% of 20-somethings are married today, versus 66% of them 50 years ago.
This might come as a shock to many of you, but the divorce rate was much higher in 1978 than it is today. While this might appear to be good news on the surface, the reality of the statistic is that people just aren't bothering to get married any more. Co-habitation is way up, and jumped a full 13% from 2009-2010 (the recession no doubt played a large role in the increase).
In my view, the only reason to get married is if you want to have kids. My wife and I have been married 8 years today, and we've got two great kids and a fantastic family life. I have to admit that the stability is nice, and stability is something I abhorred for the majority of my adult life.
I'd like to hear what you guys think. Is marriage obsolete? Would you consider raising a family without being married? And should the government have anything whatsoever to do with marriage, straight or otherwise? I'll leave you with Doug Stanhope's thoughts on the matter, and you can leave me with yours:

Oh, and Happy Anniversary to my gorgeous bride. I know she reads my stuff about as often as Prince William but, just in case, now I'm covered.