It's Finally Here - CFA Level I & II Results June 2012
O
Points)
on 7/24/12 at 10:00am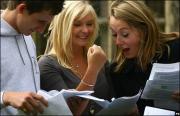 It's finally here - the results for June 2012 Level I and II. It must have been an eternity for those of you who took the exam in June. But from an outside observational point (i.e. mine), it just seems like last week that you guys took the exam!
But the results are finally here - after a super-long wait, 35 minutes past 9AM ET. Here is the summary of the Level I and II results for this year.


Pass rates for June 2012:
Level I: 38%
Level II: 42%
No big surprises in the pass rates, pretty similar to last year. Here are the 2011 pass rates for reference:
Level I June 2011: 39%
Level I Dec 2011: 38%
Level II June 2011: 43%
A few important points to consider if you're receiving your results today:
Results Analysis. If you want a further analysis on your results (and why would you not?), just plug in your results into my calculators and you'll get an instant breakdown, and further aggregated analysis a few weeks later. It's completely free.
Reregistration. Regardless of result, remember that you can register for your next CFA exam starting tomorrow. The earlier you register the cheaper it is, so make your decision soon and get it done!
Celebrate, or Commiserate. Remember to have a few drinks, regardless of what the result was today!
What were your results? Post them in the comments below!