Make the Most of Your CFA Status On Your CV
O
Points)
on 8/5/12 at 6:30pm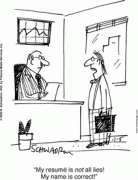 D-day for Level I and II June 2012 is over, and for better or worse, hopefully you've gotten through the worst of your hangover by now. If you didn't make it this time, don't take it too badly. Hey, if you retake, you now have hundreds of hours pre-preparation over the rest of the candidates, so it's looking much better this time around!
If you haven't done so already, do remember to get your free analysis for your results. If you've already done so, pass the link to a friend - the more results we have the better!


After results day, there's obviously a lot of shift in terms of candidacy statuses. For those of you who passed, besides thinking about
starting your new level
, you may also be thinking how can you best leverage your newfound status to spruce up your CV. However, one very important factor to bear in mind are the Ethics and Professional Standards set up by
CFA
Institute on stating such things on your CV. Without knowing it, many candidates are in violation of these by-laws and could be sanctioned by
CFA
Institute.
What is needed is a definitive guide to what should go on your CV for all phases of the CFA qualification process. Combine the desire to create such a guide with my recent obsession with infographics, and you get the unholy combination below, for your viewing, sharing and printing pleasure.
Which CFA Status on My CV?

The usual place to indicate pre-charterholder statuses is to list
CFA
Institute as an educational awarding body in the 'schools and universities' section, and list your current
CFA
status as your most recent qualification. As shown above, at each stage of your
CFA
qualification process, you have to clearly state whether you are a candidate, or you have passed. You can only state that you are a candidate if you have registered for the exam, i.e. passing Level I does not automatically grant you "Level II candidate" status.
Note that I have not covered finer points such as what should you EXACTLY write on your CV come charterholder status, (e.g. not using the phrase "John is a CFA" and all the rest). I'm going to assume you already know this from your Ethics studies - if not, you should brush up on Ethics! If you do want me to elaborate on this in a future post, let me know in the comments or on the Wall.

What about "CFA Charter Pending" if I'm just waiting for experience?
The point to keep in mind is that you cannot state, or even vague imply that you are a CFA charterholder, until you are actually one. There are many CVs that will state otherwise - a repeat offender is "CFA Charter Pending", or something similar. This is a violation of the CFA Institute Ethics and Professional Standards, and you could be sanctioned by CFA Institute for that.
If you have passed all 3 exams and are just waiting for work experience, I do agree with you that passing the exams is the hardest part, but you still can't imply charterholder status, or caveat it with some sort of "pending" disclaimer. You are, however, allowed to state on your CV "Passed all three levels of the CFA Program [date optional], and may be awarded the charter upon completion of the required work experience.".
What about completion dates? Should I put in a date of when I passed, or when I expect to obtain my CFA charter?
The key thing to bear in mind is this: you can only state fact, not projections. If you wish to state the dates of when you passed your exams, that's absolutely fine. What you cannot do is to post a date where you 'expect' to pass a certain level or obtain your charter. Dates in the past are fine, dates in the future are not allowed.