Making Bacon with Chris and Louis

Points)
on 8/23/10 at 2:11pm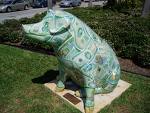 Making bacon...it used to mean getting paid. In the case of hedge fund manager Louis Bacon and top trader Chris Pia, it could mean something far less profitable.
When Louis Bacon left Shearson Lehman Brothers in 1990 to launch Moore Capital Management, the world was a different place. The S&L crisis was the populism of the day and Ivan Boesky was the resident "bankster" on the public poop pop charts. Hedge funds were popping up and a young Christopher Pia was at the heart of it all.
Pia was a blue-collar guy who flew the Lehman coup with Bacon and became his top trader. His life seemed charmed and I think that this pic , says it all...
We'll see if he's still smiling in a few months...
The CFTC is investigating Pia for "banging the close" in the platinum and palladium markets. A complaint filed by the CFTC in April against Moore Capital was settled for a hush fee of $25 million. It seems Moore is off the hook for now, but rumors continue to swirl about Pia...and could be being groomed as a future "star witness" against
Mr. Bacon.
Banging the close alludes to attempts to move the price of futures contracts by flooding the market with orders just before daily close of trading. In the futures market, the closing price is determined by the weighted average of all trades during the last few minutes of trading.
This rule generally does not offer the sort of manipulative pull Mr. Pia is suspected of. In fact it is designed to protect against it. In less liquid markets (such as platinum and palladium), however, the opportunity for manipulation does exist. This brings up the more often occurring and deeply disturbing notion of entering "morality" into the market regulatory equation.
The big question here isn't whether he did it, but whether it was wrong. The CFTC is a far more effective (and when necessary, vicious) regulator than the SEC. They are not a rules-based, but a standards-based organization. If "right" and "wrong" become a part of a regulator's lexicon, the slope doesn't become slippery...it becomes a water slide.
The implications of the Pia/Bacon situation could be extremely far reaching. If Pia is hung out to dry, this case could have far more dire effects for trading and market making than the Bernie Madoff affair.
There has been lots of talk about merging the CFTC and the SEC into one super-regulator. If such a thing were to occur it would change the market landscape far more than any bill Congress could pass.
With an insanely volatile summer in commodities and small regulatory moves already having been made, I hope this situation doesn't mushroom into another pedestal piece for further regulatory intrusions.
Who knows? Maybe "making bacon" is now a surefire way to become a feeder pig.