Managing Directors or Baby Sitters?

AM
Points)
on 6/20/12 at 4:30pm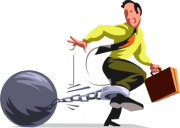 We all know finance jobs are demanding and people constantly work long hours to slog through copious amounts of models and presentations. I didn't realize, however, that some MD's seem to think that they are also babysitters as well.
A first-year analyst in sales and trading at a major bank told Clusterstock that the head of his desk will call the office every night at 10 pm to check that he's still at the office working.
"He usually calls the associate, and I can hear him asking 'Is ****** still there?' to check that I'm working," the analyst told us.
Now, I didn't realize that S&T worked long hours like this. Personally, the desk here normally runs pretty usual hours with a few late nights every once in awhile (quarter end). I'm not railing against making sure people are working, i'm just suprised that this would be taking place at this point. It feels like your parents calling you everyday to make sure your going to your college classes. As a note, the firm I work for is a lot more laid back than most so I suppose that contributes to the difference in culture quite a bit.
Is my experience just an anomaly? Do your bosses really call in to make sure your working? Is getting your stuff done timely not enough anymore?