Mentally Tough Love

Points)
on 11/12/10 at 12:04pm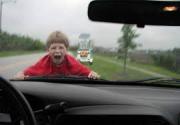 Ok, so today out of the blue it just sort of hit me...I want to give you guys a gift. It is a catch-22 sort of present...wrapped in shiny foil, with a pretty bow, but holding within it's friendly confines an ugly truth.
You. Are. Soft.
Naturally, if these words do not apply to you, please disregard them and pay me no mind...
If you, however, find yourself in the throes of despair, the depths of depression and at the edge of the cliff...this thread's for you.
The truth is that all keys to all doors lie dormant in your own head. Unlocking them is simple, yet so frightening that most never will. Over the next few weeks, I plan to discuss the requisite mental tools one needs to sharpen in order to navigate his/her way not only to/through Wall Street, but life itself. There won't be any special titles or announcements. I will not shamelessly self promote as I am proudly prone to do. I do this with best intentions. Time for some of you to learn that the best taste in life can be delivered via knuckle sandwich.
Today's lead in will discuss a simple sales tactic. Use it the next time you meet a person from whom you seek something.
Three magic words:
Fear
Of
Loss
Have the self respect and belief in your own abilities to just walk away. Don't ask me for a graph demonstrating the efficiency of walking away. Don't think about whether your GPA or your internships are good enough to just turn your back. Don't worry about yesterday. This is a new day. Just. Walk. Away. Do it once today. Walk away from something. Walk away from someone. Let them realize how much they lose by having you gone.
Confidence doesn't happen when you hit the game winning shot in front of 25,000 screaming fans. Confidence happens in the gym, late at night, on jump shot # 9,999. You make confidence. Not being afraid to lose, builds a fear of losing you in others.
Life is hard. People judge you every day. They will ask "what use do I have from this kid?". You can remember all the punch lines and know all the technical theorems. If you do not believe in yourself, however, they will notice and THIS...is what gets many of you guys blown out in interviews.
There is nothing anyone choosing an employee, a friend, a partner (in business or life) will value more than a person who values themselves. So put away the tissue and stop pouting. So what if you haven't reached your goals? You will...just keep playing the game.
Put the fear of loss into anybody who doubts you. You are too good to be passed up. If you don't believe what I'm selling...try it...free of charge.
I bet you come back for seconds.