Entrepreneur - Managing Director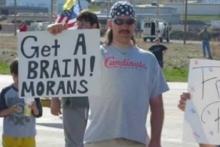 One of the main things I never understood about the US (along with amish people, lacrosse and the drinking age being set at 21) was the idea that the founding fathers provided some sort of guiding light towards economic prosperity, social justice etc.
Ron Paul talks a lot of sense, but he seems to back up a lot of stuff with 'what the founding fathers intended'*. And he's not alone; all of them Tea Party gobshites are at it, too.*
What qualifications or real experience did the founding fathers have? They were just a bunch of guys who came together and wrote an idealised version of what an 18th century country could be..
Its true they had some good ideas which have stood the test of time, but that doesn't make all of their principles perfect. Why are people trying to apply their principles to the 21st fucking century and expecting them to work?!
(*Glenn Beck and Michael Moore do it too, but they're ruh-tards).
Upcoming Events
Apr 23 2016 - 8:00am

to

Apr 24 2016 - 8:00am

Apr 24 2016 -

7:00pm

to

8:00pm

Apr 27 2016 -

7:30pm

to

9:30pm

Apr 29 2016 (All day)

to

Apr 30 2016 (All day)

Apr 29 2016 - 8:00am

to

Apr 30 2016 - 8:00am
Poll
What do you consider "Working on Wall Street"?
Working for a high finance bank on the actual "Wall" St
10%
Working for a high finance bank in Manhattan
48%
Working for a high finance bank in the greater NYC area
13%
Working for a high finance bank in the (anywhere in the USA)
13%
Working for a high finance bank (Worldwide)
15%
Other
2%
Total votes: 1411