My Heavily-Influenced-By-WSO Reading List
IB
Points)
on 1/14/13 at 10:30am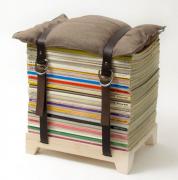 For a lot of you guys who are still in college and waiting to start whatever stint you're starting later this year, the second semester of your senior year of college has just started, or is starting within the next week or so. Now would be a great time to catch up on your personal reading, seeing as how, you know, you've done nothing but academic reading for four years.
In an attempt to follow-up on an earlier entry about reading ("What Happened To Reading?"), I'm going to post my work-in-progress reading list for the next couple months. Feel free to make suggestions or tell me I'm wasting my time!
There have been a lot of threads recently about the hedge fund industry -- an industry that I could maybe speak somewhat-intelligently about to my parents (who have ABSOLUTELY no idea), while sounding entirely ignorant if speaking to someone like BlackHat. Then again, one would be dumb in most settings when talking to BlackHat, but I digress.
I heard this was a great, quick, and pleasurable read -- what do you guys think?
2. How to Win Friends & Influence People
Another popular book among the WSO readership. I have to say I've always been quite cynical when it comes to these self-help / self-improvement books, but the folks on WSO tend to be a cynical bunch, so if YOU guys think this book is useful, I must actually be missing out on what it has to say.
Similar to #1, an in-depth understanding of sub-prime mortgages and the eventual collapse seems both useful and interesting. Michael Lewis is a great writer -- many fans of Liar's Poker on this site -- who is always on top of his game when it comes to financial journalism. Folks who have read this book, what'd you think?
4. William Faulkner Collection
Although I'm no expert in American literature, it's hard to argue with the fact that Faulkner is one of the greatest -- if not THE greatest -- American writers. Several courses in college glossed over Faulkner, but I was hooked quickly, and now that I have the leisure time, I'd love to continue reading this guy.
Need to fill my "blood, guts, & nudity" quota, and having finished the first book recently, I'm excited to keep trucking along with this dense but easy-to-read and disturbingly entertaining series. The astonishing length of each entry in the Game of Thrones series makes this entire reading list somewhat ambitious, but Game of Thrones is fairly low-priority -- especially because the [awesome] show follows the books closely enough, or so I've heard.
There you have it folks, my heavily-influenced-by-WSO reading list! Feel free to make suggestions, or tell me that certain books/series need the axe. Or, if you're feeling up for it, post your reading lists too!
Tags: