Need to Fill Hedge Fund Board? Look no further than the Caymans

CF
Points)
on 7/21/12 at 4:31pm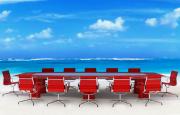 With the boom of hedge funds in the past few years, many funds have placed their legal residence in the Cayman Islands for tax purposes, according to an article in Dealbook titled, "In Caymans, It's Simple to Fill a Hedge Fund Board". If you were to choose this arrangement in the Caymans, they would also require that the fund establish a board there as well. Given the attractiveness of its tax benefits, practically a whole new industry of board members to fill these roles have been proliferating. Directorship costs between $5,000-$30,000 a year for each director, with 9,000 funds existing (although I believe this only constitute US funds). Unfortunately, this doesn't come without problems, such as the value of directors when they oversea over twenty multi-billion dollar hedge funds:
And so is a debate. Major investors and others are starting to question the value of offshore directors, especially in light of recent hedge fund frauds, liquidations and missteps. An analysis of thousands of United States securities filings by The New York Times shows that dozens of directors sit on the boards of 24 or more funds in the Caymans, which individually are supposed to be overseeing tens of billions of dollars in assets. Some hold more than 100 directorships, and one particularly busy director sits on the boards of about 260 hedge funds.
One of the defense by these companies is that not all hedge funds are created equal. Like a doctor who can see 180+ patients a year because not all patients require the same amount of help, a director does not require to give an equal amount of attention to each hedge fund. It's a fair argument, but I'll let you decide its merit. In addition, some of these firms are also hired for legal advice while sitting as directors, which can create a conflict of interests.
There's not doubt that some of these directors for hire are experts in their field, but is it enough to protect investors? Personally, I'm quite dubious, but I will leave you with a quote from The Essays of Warren Buffett: Lessons for Corporate America (pg. 45-46):
Many thousands of investment-company boards meet annually to carry out the vital job of selecting who will manage the savings of the millions of owners they represent. Year after year the directors of Fund A select manager A, Fund B directors select manager B, etc...in a zombie-like process that makes a mockery of stewardship. Very occasionally, a board will revolt. But for the most part, a monkey will type out a Shakespeare play before an "independent" mutual-fund director will suggest that his fund look at other managers, even if the incumbent manager has persistently delivered substandard performance. When they are handling their own money, of course, directors will look to alternative advisers but it never enters their minds to do so when they are acting as fiduciaries for others.
From your knowledge and opinion, can directors be effective if they sit on that (20+) many boards? Do you think they'll require directors to reduce the amount of boards they sit, or nothing will change? If you could, would you work as a director in the Cayman Islands?