Part 2: My Pursuit of Happyness

PE
Points)
on 6/5/12 at 9:00pm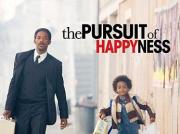 What I Did To Overcome: Without having a full time investment banking experience or an Ivy League education, I had fought an uphill battle to get a front-office position for five years (2007-2011). Previously, I did BO/MO roles at three different BBs prior to graduate school, two IBD internships at two different Boutiques, and one consulting position at a startup. I entered my graduate program with an end goal of getting into a front-office position.
Started with a List: Despite the tremendous constraints on resources as well as mental pressure mounting on top of me, I made a list. No matter how crazy it might sound at that time, I wrote down things that I want for myself. A few things on the list were 1) I want a front office job (ER/IBD either in Consumer or Technology) with a nice boss and at least a six figure salary including bonus, 2) I want to lose 45 pounds to 190 lbs, 3) I want to date someone who is younger than me, good looking, kind, and nice, and someone who love me for myself. I would look at that list every morning right after I wake up and every night right before I go to bed. Most of the things on the list came true because I won't stop until I have achieved them.
Hit the Gym: I didn't feel good about myself. And the obesity is something that I have been struggling throughout my college years. Graduate school made it worse. I also needed a way to demonstrate (something personal) towards potential employers that I have the determination to get things done. I would wake up 5:30am every morning and hit the gym at 6:00am when the gym would actually open every morning (6 days a week, I rest on Sundays). I would follow my own schedule of daily routine for weight lifting and get out by 7:30pm. I would start working at work by 8:30am. When I am done with my job around 6:00pm, I would hit back to the gym for an hour of cardio at night (usually from 9:00pm to 10:00pm). I cut off as much carbohydrates, fat, sugar and salt from my diet as possible. I drank a lot of water, ate smaller portions with more meals and consumed more vegetables and protein. And within a couple of months, all the fats have shredded off. I have managed to lose 45 pounds.
Took a Paycut: After doing several BO/MO roles, even at BBs, I realized that I could never land a FO role by getting another BO/MO positions. From my experience, I realized that most employers carry the backoffice stigma (the BO guy) and whatever I did in BO/FO roles were not transferable. I already did two IBD internships, which showed me that there was a big difference in skill sets that employers were looking for. And there was no ways for me to develop them if I were kept doing any BO/MO roles. So I joined a startup to build financial models, put together pitch books, speak to industry experts and also help the company to raise capital. I didn't get pay much but I knew that I needed to spend some time learning a entire new skill sets.
Kept Trying: Since I was more focused on the role itself, I didn't focus all of my resources to applying for BBs. Through networking, I did land interviews with the staffers at a few BBs including CS, DB, JPM for IBD Consumer Group for off-cycle recruiting. Throughout the graduate program, I attended all the networking events and collected all the business cards that I can. By the time, I got my full time job, I have contacted over 600 people. I had also applied every FO roles that I can find at investment banks. I kept a record on the jobs that I applied and it was over 800. I also went in for a lot of interviews, close to 35 of them. Most of the time, I got rejected or I wasn't able to move to the final rounds was due to the work Visa. Many smaller firms were not willing to sponsor my work Visa and they had been very honest to me about this when I asked them for feedbacks.
Developed Alternative Interests: What I found the most useful during my job search was books on self development. I spent a lot of time reading through materials from Jack Cainfield and David DeAngelo. This made me realized that I needed to work on myself to become a better man. If I can do that, everything will fall in its place. I spent more time on building character, figuring out my core values, establishing strong personal boundaries and working on being persistence. If my body were the hardware, these personal developments were the essential softwares that I needed to run my life smoothly. I started writing various articles on self development which I eventually turned into a website. Initially, it was built for myself. Later I released it for others to use.
***On vacation, will try to respond back to questions as soon as I can.***
My Story:
Part 1: My Pursuit of Happyness
Part 2: My Pursuit of Happyness
See my previous posts in this series:
Day 1: To Be A Better Man
Day 2: Healthy Competition Among Mature Men
Day 3: I HATE YOU
Day 4: SWAG, Do You Have It?
Day 5: Word of Advice
Day 6: 10 Important Life Lessons
Day 7: Unofficial Guide to Banking & Dating
Bonus: Previous Useful Posts
"I am the hero of the story. I don't need to be saved."