Sawyer's Syndrome: The ABCs of Trade and Employment

O
Points)
on 5/18/12 at 6:54pm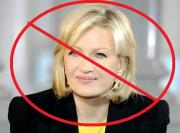 There she is again: Diane Sawyer, the primary ABC evening news anchor, with another installment in their interminable series of reports on imports and employment in America. I could just strangle her.
One week their (alleged) reporters go to people's houses and look at everything the occupants own to see where it was made. Surprise, dismay; much of it was made in other countries. The family cringes in horror at the thought of how many Americans they put out of work by not checking the labels on those shirts, Jeans and televisions they bought at Walmart!
The next week their team of trade terrorists visits a happy family who, having already repented of their importing sins, has begun assiduously buying American. In every episode ABC's message is the same: the solution to much of the unemployment problem in America is to simply stop buying imports. Spend Z-billion less on stuff from foreigners and we will have X-million more jobs.
This complete ignorance about the nature of international trade, on the part of a major news network, is astonishing.
Maybe the use of money confuses them. Take it away. If Mr. 'A' standing on one side of a border trades ten chickens to Mr. 'B' standing on the other side for his pig, nobody observing fails to see that exports are simply the way both parties pay for their imports, and that a decision not to import is a decision not to export.
The use of money in modern economies allows superficial thinkers to
consider importing in isolation from exporting, assume a genuine
disconnect, and suppose that we could stop doing one without affecting the
other. That is ABC's mistake. Let's call it Sawyer's Syndrome. But the
economic connection between importing and exporting remains.
Foreign nations have their own monetary units. If they sell us some
of their goods or services and accept U.S. dollars in exchange, they do so
because they wish to use them to buy something of ours. If we stopped
buying things from foreigners, as ABC wants, foreigners could not get the
dollars they wanted in order to buy the things we export. Any employment
we gained in our import-competing industries would be matched by
employment lost in our export industries.
Oh, you say, can't we run deficits in our current account, buying a
larger value of goods and services from foreigners than we sell to them,
and doesn't that cost us employment? Well, yes we can, and no, it
generally doesn't. Barring systematic central bank interventions to
overvalue the dollar and undervalue foreign currencies, U.S. current
account deficits are simply matched by U.S. capital account surpluses,
leaving a Balance of Payments of zero.
In short, extra dollars acquired by foreigners who sell more goods
and services to us than they buy from us are used to purchase American
financial assets. That makes more financial capital available here for
investment in productive physical assets, increasing domestic employment
and offsetting any lost due to our current account deficit.
Just theory, you say?
Well, maybe, but consider: *Over 1965-2002 the raw correlation between the values of American merchandise exports and imports was .986. *Over the same period U.S. annual Trade Account balances (exports minus imports), expressed as a percent of GDP, were statistically
unrelated to U.S. unemployment rates.
*Over this period larger U.S. Current Account deficits as a percent of GDP
were actually associated with slightly lower unemployment rates,
though again this association was statistically insignificant.
So it appears that both basic theory and evidence indicate that our
transactions with foreigners have essentially neutral effects on the levels of
domestic employment and unemployment.
Does it follow that one could turn this argument around and claim that
there would be no harmful effect from eliminating our trade with others?
Not so. People in all nations buy from foreigners those things foreigners
can produce and sell at lower comparative cost than they be can produced
and sold domestically, and sell to foreigners those other things they can
produce and sell at a lower comparative cost than the foreigners can.
The benefits of opening trade across borders stem precisely from the
reallocation of resources (including labor) in each nation from industries
having comparative cost disadvantages to those having comparative cost
advantages, as the former industries contract and the latter expand. Trade
creates an efficient international specialization and division of labor.
There are certainly those hurt (the less efficient import competing
firms, prominently) in all trading nations as trade opens, but as Adam Smith
and David Ricardo showed, world production of all traded goods increases,
making people everywhere better off on net.
The reverse is also true. If we cut ourselves off from foreign trade, as ABC wants, many productive resources in the U.S. would be reallocated from more to less efficient uses. Production would decline and we would be worse off. Just how ignorant are the people at ABC? Are they unaware of the
devastation wrought both in the U.S. and internationally by the Hawley-
Smoot tariff of 1930?
Do they fail to understand how much poorer Cuba is
than it would otherwise be due to its imposed isolation from world trade?
Are they unaware that hundreds of thousands of North Koreans have
starved to death recently not just because of their inefficient communist
system (pardon the redundancy), but also because of their isolation from
world markets?
How hard could it really be for the intelligent souls at ABC to have
figured some of this out, and avoided repeatedly misinforming millions of
people? Certainly nobody at WSO has Sawyers Syndrome, right? Then why don't we enlighten her and put her out of our misery? Even she might feel better. Hey, I'm cheering up already!
Tags: