Take Your Resumé to the Next Level
ST
Points)
on 8/28/12 at 8:34am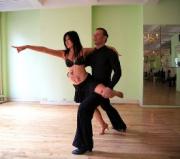 Guys, the following advice is going to be fraught with danger for many of you, so I want you to think long and hard about whether or not this is a good idea for you personally. There is huge (HUGE) Aleksey Vayner-level FAIL potential in this idea, so really give it a lot of thought before you execute. But maybe it's the thing that sets you apart from all your competition.
You've probably heard of vanity websites. You might know someone who has one or more, or you might even have one yourself. But have you ever thought about using one as a resumé enhancer? Lifehacker thinks that maybe you should.
Think about it: one of the first things HR is going to do is Google you. Wouldn't you rather drive the results of their search than whatever random forces might be out there posting pics of you doing naked keg stands? A well laid out vanity page might give you the space to expound on some of your stronger points that just won't fit on a one-page resumé.
If you're a student looking to land their first gig, Lifehacker recommends Seelio, and I have to admit that it looks like a pretty cool idea. It's a platform for showcasing some of your accomplishments and interests, and it gives you a lot more flexibility to sell yourself.
But a word of caution: you have to do this right if you're going to do it. The least little bit of douche, the smallest unbelievable embellishment, a photo of you that is the least bit unflattering, and you'll be internet famous in five seconds flat. We all remember the lightning speed with which Vayner's 11-page resumé and accompanying feature film burned up the web. Don't be that guy.
I think things like this will become more and more common in the near future, and it's definitely better than having a potential employer find your public Facebook profile. It's always better to present the story you want told about you than it is to leave that to chance.
But again, for the love of all that is good and Holy, be careful! I don't want to see anyone crater their career because they think they look dapper with a pipe and smoking jacket. Silly shit like that will get you eviscerated on Wall Street. If you're gonna do it, make sure you look as conformist as absolutely possible. The round hole of Wall Street doesn't take kindly to square pegs, if you know what I mean.
So what do you guys think? Good idea or no? Is anyone doing this? I think if it's done well and properly, it could really enhance your resumé. But I really did hesitate to mention it because there is so much potential to royally screw yourself. On balance, though, I think anything that makes it the least bit easier for HR to give you a "yes" is worth taking a chance on.