The 10 commandments for surviving your summer internship
CF
Points)
on 10/29/12 at 6:45pm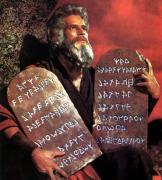 Moderator Note (Andy): DM123 completed an engineering degree and an MBA. He has work experience as an investment banking analyst, mid-market lending analyst, and is currently a corporate banking associate at a global investment bank. He also has co-op experience in management consulting, and in institutional fixed income money management.
When I look back to those days as a summer intern, I can't help but recall the "rookie mistakes" that either I or my fellow summer analysts made at our first Wall Street job. Follow these 10 steps and you'll be sure to have a successful summer placement:
1. Show up to work early: the same rules don't apply to everyone in the office. Older people are either super senior and can "do what they want", or may have a special arrangement where they arrive a bit later because they need to drop off the kids before work. Either way, these rules don't apply to the rookie. If most people in the office show up at 8:30am and some people show up at 9:00am – you should arrive to work at 8:15am.
2. Be the last to leave: while many employers may claim they aren't into face time, it's simply not true. I've personally spoken to an MD on the trading floor who complained that kids these days don't appreciate the rules anymore. In her day, NO ONE left the trading floor until every single senior person went home!
3. Dress the part: Invest in the minimum amount of suits and dress shirts. I would argue you need 3 suits and 7 dress shirts. Don't wear anything too trendy. A trendy tight dress shirt might look cool in the dance club but it'll send the wrong message to the MDs: "oh he's still a kid because he dresses like one".
4. Always take notes during meetings: Just because everyone else in the meeting isn't taking notes and you can easily memorize the key takeaways without writing them down, that's not an excuse not to take notes. You are the entry level person who is expected to write things down on behalf of everyone else. There is always one jerk who will get mad if you aren't taking notes even though he isn't taking notes either.
5. Don't flirt: I don't care if she's a fellow intern or an admin, do not flirt with anyone in the office. Everyone is watching! Don't even go there.
6. Don't ask too many questions: Some people enjoy asking questions because they feel engaged and it helps them learn faster. Keep your questions to a minimum. The goal is to get work done, get paid and go home. If an intern can be low maintenance and still help out – great. Nobody has the time or energy to explain things to you to fulfill your curiosity.
7. Check over ALL your numbers: In school, one or two typos gets you an 85%. At work, there is ZERO tolerance even for one typo. I have a simple trick. After completing a table in excel, I spend 10min double checking every single number to make sure it's accurate. Even something as basic as gross margins… check the formula and make sure it's correctly linked.
8. Formatting is key: Especially in investment banking, formatting is very important. Make sure you use the same number of decimals, and units throughout your PPT. The expectation is nothing short of perfection.
9. Be nice to everybody: Just because someone isn't your actual boss doesn't mean he isn't part of the decision making process on whether you will be hired back. Don't take any chances and treat everyone as if they are your actual boss.
10. Don't tell anyone your career plans are different than your current job: Even if you landed a tier 2 job that everyone uses as a stepping stone to something better, don't tell people that this is your intention. Your employer needs to think that this is a perfect fit. If your actual goal is to work for a hedge fund, tell that to potential hedge fund hiring managers – don't say anything to people in your current job. Despite what they may promise, they probably can't and won't help you get into a different department, or a different company.