Have You Read the 2013 Technical Questions Interview Guide Yet?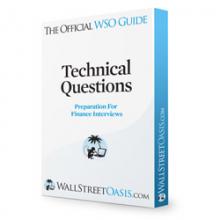 Finance interview coming up? The WSO Technical Questions Interview Guide (w/ Flashcards) is a compilation of the most common technical investment banker interview questions and sales & trading interview questions encountered on Wall Street.
CLICK HERE to get access to the new 2013 Tech Guide.
Updates included:
Now over 110 pages
New current event topics to study
Over 50 New Questions
7 New Brainteasers
16 New and Expanded Charts
Updated statistics and examples
Nearly every question and answer revised and edited
OR do you want even more preparation? Buy the IB Prep Pack bundle and save $20 off the retail price. The IB Prep Pack includes the Technical Interview Guide, Behavioral Interview Guide and the WSO Networking Guide.
CLICK HERE to get access to the Investment Banking Prep Pack
Have you purchased an earlier version and want an upgrade? Fwd your original receipt to [email protected] with the subject "New Tech Guide"
The WSO Advantage - Land Your Dream Job
These 6 FREE Financial Modeling Lessons
Can Help You Land Your $100k+ Dream Job
Our Fun Excel Training and Challenge Contest
DCF Modeling, Tons of Free Templates & Video Tutorials
Valuation Lesson on Trading Comps
Cash Flow Modeling and more!
I would normally sell this for at least $200, but we're offering it for free as a sweet bribe to join our community of 350,000+ members. See you on the inside!
Lazy? Join us and get the 6 free lessons with 1 click below!
6 Free Financial Modeling Lessons...and More.
Enter e-mail to get our Modeling Tutorials (Worth $200+)
Upcoming Events
Oct 7 2015 - 8:00am

to

Oct 9 2015 - 5:00pm

Oct 7 2015 - 8:00am

to

Oct 8 2015 - 8:00am

Oct 7 2015 -

7:00pm

to

9:30pm

Oct 7 2015 -

7:00pm

to

8:00pm
Poll
Long term, which career path interests you the most?
Accounting
0%
Asset Management
7%
Commercial Banking
1%
Consulting
5%
Corporate Finance / Strategy / Development
8%
Entrepreneurship
7%
Equity Research
4%
Fintech
2%
Hedge Fund
19%
Investment Banking
9%
Investment Advisor / PWM
1%
Private Equity
17%
Prop Trading
1%
Real Estate
5%
Sales & Trading
3%
Venture Capital
5%
Other Finance Role (academia, non-profit, government, legal, etc)
1%
Other - Non Finance
2%
Total votes: 432