The Great Strategic Game of Life (2/2)

HF
Points)
on 10/30/12 at 10:30pm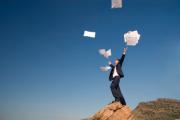 In the first post in this series I was talking about big strategic decisions in life. I made the point that maybe small decisions drain a lot of time and energy from us, and that could make us lose track of the big picture.
Some comments pointed out that the big picture is nothing but a sum of the small parts. I beg to disagree. If your option space becomes too narrow and all you can think of are small decisions such as which desk to apply for in a S&T internship, you lack the time to see some choices that are available to you, like a start-up or a different industry. But that requires you to believe that transformational shifts are not forbidden in life. Anyway, I owed you a few life stories, so here we go.
Story 1: Once upon a time, there was a classmate of mine that was really smart. Well, she wasn't amazing at classes or exams. But she did OK, and on top of that, she was charismatic, knew how to make friends and how to network like no one else I've met. She didn't come from money and had a hard time paying her way through college, an extra motivation tool.
As soon as she could, she got a part-time job in a BB bank, and performed brilliantly. She went from Analyst to Director in less than 10 years, no b-school. Yes, market was great, especially in the first years, but her story was unique by any standards. She was really obstinate about getting there. And she did it.
Now, for the bad part, she had probably 3 or 4 weeks off since then. She has no close friends anymore, besides work acquaintances, who she herself admits she can't really trust. Conversely, she isn't seen as the most trustworthy person. She's been everywhere in the world, but only for work. Maybe a couple of free afternoons in those cities, and that's pretty much it for traveling. She's loaded, of course.
Story 2: Once upon a time, there was a systems engineer in a media company. He went up real fast. He grew in the company in the age of huge recording contracts, when system and infrastructure needs were massive. He was promoted to a regional C-level office, with a 2-3M first-year comp (roughly a third of his entire net worth accumulated over 15 years), and a good perspective of a CEO chair later on.
Times went sour for the industry, and his company was entertaining merger talks. The deal was lined up quickly and he soon learned that his seat was gone. He had a month or so left and a $1M severance. He tried to reposition within the music industry at a high position, bummer. So what did he do?
He knew his knowledge could be valuable in other industries, but he didn't know where to start. He brought his wife and kids to visit their dream house, and bought it. He was now deep underwater. He started working 100-hour weeks, drafting business plans, buying several thousand dollars worth of data, and he opened himself a job. Regional CEO for a tech company in round C financing. Comp was 200k plus shares. It IPOed and his current worth is in the low 9 digits.
Story 3: This is the shortest one. A really bright high school classmate, born to a very wealthy family. Went to work for a F500 company, finance department. Never really took any risks, stuck to 9-5, never cared to network that much, very slow progression. There are only two things that really distinguish her: (1) she has a lot of free time, and enjoys every minute of it. She travels the world, eats well, lives well. But that all comes with a cost. (2) She's severely cash constrained.
Being born in a golden crib fosters expensive habits. Expensive habits don't really go well with a low comp, especially at the mid 30s. She is postponing her wedding for almost 5 years, because for personal reasons she refuses to take a wedding party (one that is socially adequate for her) as a gift from her family.
Bottom line: Risk taking has little to do with recklessness. It is a choice, and it has a lot to do with motivation and life goals. But make sure you understand them well, and you have a good plan B.
People sometimes come with that old bullshit that money isn't important, but really, I am not writing for a charity website. The monkey ambition par excellence is making a shitload of money and becoming a BSD. That being said, yes, go for it. And, yes, you can measure success and cash.
The final point here just that being worth a ton of cash doesn't make you a winner. You can only be sure that you "won it" when you look back and you are absolutely sure that it was all worth it. Everyone says you need to be passionate about what you do, and that is true. I hope these stories illustrate why: the cost is just too fucking high if you aren't.