The Money Leagues (Part 1)

Points)
on 7/9/12 at 6:30pm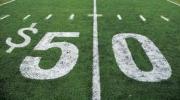 It is hard to find anyone who doesn't enjoy watching some form of professional sports. Be it Football, Hockey, Baseball, Basketball, Soccer, or Cricket (thanks to India, cricket just might be the world's 2nd most popular sport), millions of people in the US, and billions of people worldwide identify with a specific team.
These fans drive revenue. This revenue ends up paying the best players millions of dollars per year (and the "worst" $350,000, in the NFL). Despite the enormous salaries earned by players, the owners of teams reap benefits worth even more. The most valuable teams are worth billions of dollars. This series of posts will attempt to explain why. By the end of this series, I hope you can all answer questions like the ones below.
What is the most valuable sports team in the world?
What range of valuation multiples do teams typically see?
How do teams generate revenue?
Why are the Cleveland Browns worth $1 Billion if they can't even maintain positive EBITDA?
For this post, we will explore revenue sources and team valuations.
Lets start with revenue sources. Teams earn money from seemingly unlimited ways, from that $25 dollar hot dog to your $100 parking pass, but they can be divided into three broad categories.
Commercial Revenue
Broadcasting Revenue
Matchday Revenue
These categories are pretty simple, and I'd like to thank the great people at the Deloitte Sports Business Group for publishing the Football Money League Report, which breakdowns the worlds most valuable soccer teams revenue into these three categories. Don't worry, international soccer isn't that much different than professional sports in the US. Why don't we break down these even furthur, so you can see what it means for teams.
Commercial Revenue
Commercial revenue is the reason why Nike is suing Reebok. Nike reportedly paid $1.1 Billion for its 5-year apparel contract, but many think the deal will pay off.
Team's earn money through League wide contracts, such as the Nike deal or Bud Light's "official beer of the NFL," and they also earn money through team sponsorships. The logos we see wrapping around fields, courts, and rinks are a mix of league contracts and individual team sponsors. The biggest moneymaker for individual teams is stadium naming rights. Dan Snyder's deal with FedEx for rights to the Redskin's field set off a money making trend. Team's can expect to earn hundreds of millions of dollars over the life of a contract for the naming right to fields. This is money that goes to the team, not the league, making stadiums a big revenue source for any team.
In Europe, it works a little bit different. While leagues do sell league sponsorships, they have not developed the collective bargaining American leagues have. This ends up hurting the worst teams (who wants to sponsor a perpetual loser?) and benefitting the best. Because of this, team contracts can be extremely lucrative. A well known lacrosse and hockey outfitter, Warrior Sports, entered a $200 million contract with Liverpool to pave their entry into the international soccer market. We will see if their bet pays off, I think it will (Liverpool is a top apparel seller).
Commercial revenue includes the sale of branded products such as apparel, and also includes revenue earned by vendors during games. The NY Yankees, Dallas Cowboys, and Goldman Sachs recently hired a private equity executive to lead their joint venture, Legends Hospitality Management, focusing on stadium development, food and beverage services, and merchandising.
Broadcasting Revenue
This one is easy, TV, TV, TV, but don't forget radio (many MLB markets earn significant radio revenue). The NFL recently negotiated a new TV contract with FOx, NBC, and CBS, worth about $3 Billion per year. This is great news for owners, and not so great news for players (who lost a significant chunk of change under the new collective bargaining agreement). How is the NFL able to negotiate such a huge contract? Because they sell the entire league. Unlike in many European countries, US professional leagues sell leagu-wide broadcasting rights. In Europe, many teams must sell their own broadcasting rights. In Spain, this creates the problem of figuring out which channel the Barca game is on. Barcelona has four or five channels that play its game, and if you wanted to purchase these channels for your home television, you would spend close to 1000 euros a year.
To put it simply, a contract for every game by every team, is worth more than the contracts for individual teams. The value of the whole > the sum of the parts. Indvidual teams can also capitalize on broadcast revenue, this is a primary reason the LA Dodgers were sold for $2 Billion.
In case you are itching for more, I will go deeper into this subject in a future post.
Matchday Revenue
My favorite! Ticket sales, parking passes, and premium seating. The driver behind strong matchday revenue, is an amazing stadium. VIP Boxes and premium seating are the cash kings. Boxes can go for hundreds of thousands of dollars per season, and premium seats go for hundreds of dollars per game. When teams build new stadiums and arenas, you can be sure that they were designed to maximise matchday revenue. I'm going to cut this one a little short as well, to save some goodies for a future post on stadiums (don't worry, it will be worth the wait).
Team Valuations
For a more complete report of team valuations, see the links at the bottom of this post. I will just highlight some of the things I found interesting.
No NBA team is worth more than $1 Billion. The most valuable team is the Laker's, at $900 Million (and a stunning 37.5 EBITDA multiple).
The most valuable team in the world is Manchester United, worth $2.4 Billion and listing on the NYSE.
The average value of an NFL franchise is $1 Billion, on average EBITDA of $30.6 Million (for a multiple of 32.7). The NFL is headlined by the Dallas Cowboys and Washington Redskins, worth $1.85 and $1.55 Billion respectively.
Only two hockey teams are worth more than $500 million, the Toronto Maple Leafs and New York Rangers, at $521 and $507 Million respectively.
Yes, I know you are jealous of those multiples, when that TMT company you just sold barely got 13 times. But hey, it is sports, and people will do crazy things for the teams they love.
Topics for future posts in this series include Fans, Stadiums, and Players (the three revenue drivers), sports accounting (great invention), and the "other" billion dollar sport, Cricket. Let me know what you guys want to see for next week.
And don't forget to start reading.