The Monkey Lives!
ST
Points)
on 11/11/10 at 5:44am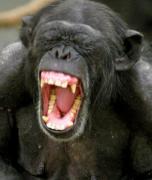 I'm often asked about what eventually happened with a lot of the crazy deals we underwrote back in the early 90's. My firm had a penchant for underwriting some of the most bizarre and impractical companies you could ever imagine. The funny thing was, a lot of them worked out in the short term. In fact, we were ranked #2 in the nation in 1993 for return on our IPO's (a staggering 53% average return) by USA Today.
These companies ran the gamut from actual worthwhile technologies like the early iterations of radial keratotamy lasers to the hopelessly ill-conceived. One of our most widely-held portfolio companies was a low-rent biotech who came up with an injectable smoking cessation product. Seriously. Now, who do you know that wants to quit smoking bad enough to shoot up three times a day?
Every couple years, the firm would organize a private trade show made up of our portfolio companies and then send the top producers from every office around the country to the show. These gatherings were ostensibly designed to provide exposure to our principal deals, bring us up to date on any new developments, and basically to get us hyped up about our portfolio companies.
In reality, these gatherings were just an excuse to get absolutely destroyed with other guys from the firm who you only saw once or twice a year, and then somehow endure the daily meetings, bleary eyed and hungover. At one point during the 1994 show, I was somehow convinced to strip down to my boxers and get in the shower with two strippers on stage at a huge nudie bar in Atlanta. Good times.
Anyway, it was at this show in 1994 that I would encounter a company that I'd never heard of (hell, no one had ever heard of them) whose technology still gives me chills to this day. They would very quickly become the talk of the show.
As my buddies and I moved from booth to booth, listening to the various CEOs and company reps do their best to convince us that they were the next IBM or Pfizer, I noticed this weird looking guy off in a corner booth by himself, with no one around him. Unlike the other companies who had big, professional banners and booths, this guy had a hand-made sign that said BioTime. I'll admit, at first glance it looked like just another dubious offering destined to go to zero.
Curiosity got the best of me and I wandered over and asked him about the company. He told me we were about to do a secondary offering for them, and it was going to make our clients wealthy beyond their wildest dreams because BioTime was about to turn medicine as we knew it on its head. I remember this made me chuckle, because I'd heard it so many times before, but he looked me dead in the eye and said, "You're fucking uninformed."
After a couple days of CEOs kissing my ass, having a weird dude from a company I'd never heard of tell me I was fucking uninformed was like a slap in the face. I was instantly intrigued and I called all my buddies over to see what the company was all about. I can't remember if the guy was the CEO (could still be, for all I know) but he was definitely an evangelist and you could tell he had no doubt that the company was about to change the world.
He explained that the company had pioneered a blood replacement solution that the human body would naturally synthesize back into blood within about 48 hours. In other words, it was a sort of miracle Kool-Aid they could pump into somebody who'd lost a bunch of blood, and it would not only save his life but would actually become his own blood after a couple days. There was no need for blood typing, as the solution was the same for every blood type. This stuff could be carried on every ambulance worldwide and would alleviate pressure on blood banks. If it worked, it was a no-brainer. He was right, it was a game changer.
But then things took a turn for the bizarre and frightening. He almost took on a conspiratorial air about him when he said he wanted to show us a video tape. The video opened up in a lab with a bunch of doctor types milling about, and we all knew we were about to see some (probably illegal) mad scientist shit here.
The guy in the booth asked us if we knew why some tumors were considered inoperable. Of course we didn't. He then explained that no tumor is inoperable, there are just some places in the human body (the brain, for example) where you can't get to the tumor and get it out before the patient dies during the operation. There just isn't enough time. Until then.
The video demonstrated how they had taken rats, pumped out all their blood and replaced it with BioTime solution, and then froze the rats. No pulse, no brain waves or whatever, clinically dead in other words. Then they would heat the suckers back up and they'd come back to life. This was pretty incredible shit. The theory behind it was, if they could take a person with an inoperable tumor and replace his blood with the solution, then take him down to freezing where his heart is beating very slowly, it would extend the amount of time doctors had to work and tumors would no longer be inoperable. They could just take their time, excise the tumor, and then pump the guy's blood back into him and warm him up.
At this point a monkey shows up in the video. A big old orangutan. We all get a sinking feeling because we know what's coming next. Sure enough, they sedate the monkey, pump him full of Kool-Aid, and take him down in temperature to death's doorstep. They leave him in this state for about five minutes, then they heat him up and take the defibrillator paddles to him. He comes back to life, as advertised.
We're all pretty freaked out by this at this point, but the guy does a Ron Popeil on us and says, "But wait, there's more". We watch them rig the monkey up again, pump him full of Kool-Aid, and lay him on a bed of ice where they take his temp down to near freezing. This time they leave him out for about a half hour.
It's time to bring the monkey around so the docs start going through their procedure. They warm him up, pump his own blood back into him, and fire up the paddles. Just as the doc is about to hit the monkey with the paddles, the monkey's eyes fly open and he starts to claw his way out of the ice. The doc jumps back ten feet, and I think we all did too. Scariest goddamned thing you've ever seen.
Needless to say, we were sold. I think the firm expected it to be a lackluster secondary offering that we'd just forget about after getting it funded. It ended up being so oversubscribed that the stock shot up before we even did the offering. "You're fucking uninformed!" and "The Monkey Lives!" became the rallying cries we'd scream at clients who were hesitant to buy in. I'll never forget the red herring for that deal - it had a couple of rats on the cover with these creepy, scary translucent eyes because all their blood had been pumped out and replaced with BioTime solution (rats normally have red eyes because of the blood immediately behind their eyes).
By now you're probably wondering why I brought all this up. My point in all this is that most of the companies we underwrote back then are no longer around. They had their day in the sun and then went under. I expected BioTime to do the same. But I started doing a lot of covered call writing in the late 90's, and BioTime hit my radar then as a stock whose options were trading at an enormous premium. I was kinda shocked to see that they were still around, and even more shocked that they were established enough to have options traded on them.
Well, you can imagine my surprise when I read this article. Not only are they still around today, it looks like they're making some real headway in the stem cell space. Now I've gotta buy some just for shits and grins.
We did a lot of goofy deals back then, but some of them were really a hoot. BioTime definitely fell into the latter category. I wonder if anyone on the Street still has that much fun doing a deal. The IPO market is almost totally stagnant these days, so I guess VC and PE guys are the ones who get to see the looniest deals.
Anyone have any tales of off-the-wall technologies their firm has funded? Or deals you never thought would work out that surprised you?