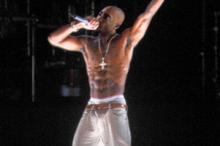 So the rapper 2Pac is alive after all! ... at least in hologram form. For those of you out of the loop, this past week at the Coachella music festival, a hologram of Tupac Shakur performed 2 songs with fellow rapper Snoop Dog and the crowd loved every second of it - you can watch the performance on YouTube here.
The (public) company responsible for this is Digital Domain Media Group (NYSE: DDMG). In response to their stunt at Coachella, the stock shot up more than 30% in the days following in pure speculation that this technology could be monetized. The company lost 140 million dollars last year.
Is this the beginning of a new trend in live entertainment? Does anyone think this is a bad idea or borderline creepy/immoral? Also, how you feel if you were turned into a performing hologram after you died?
Apparently these guys are also responsible for effect the in the movie "The Curious Case of Benjamin Button" and now they are talking about taking halo 2Pac on tour with a cast of other holographic rappers. Personally, I find it creepy that they are bringing back dead artists in such life like ways while also maintaining the power to completely censor them and change their message.
Would any of you guys be interested in seeing holograms of your favorite bands preform?
Upcoming Events
May 24 2016 - 8:00am

to

May 25 2016 - 8:00am

May 29 2016 (All day)

to

May 30 2016 (All day)

Jun 1 2016 - 8:00am

to

Jun 2 2016 - 8:00am

Jun 8 2016 - 8:00am

to

Jun 10 2016 - 5:00pm

Jun 11 2016 - 8:00am

to

Jun 12 2016 - 8:00am
Poll
Who is your favorite Hedge Fund manager?
Bill Ackman
14%
Steve Cohen
8%
Ray Dalio
17%
Ken Griffin
8%
Carl Icahn
10%
Jim Simons
4%
George Soros
9%
David Tepper
6%
David Einhorn
9%
Seth Klarman
9%
Other / None of the above
7%
Total votes: 543