The Yuan as the World's Reserve Currency

Points)
on 6/7/11 at 1:39pm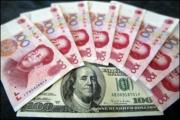 With the recent revolutionary fervor in the MENA region, one can only wonder if and when the tidal wave will sweep further to the East. In light of recent increases in Chinese censorship it is as good a time as any to muse about the validity of the Yuan as the world's reserve currency.
We have been here before in recent times, as doomsday preachers espoused the increasing influence of China in global markets and as the U.S's personal debt holder. But how strong is the Yuan fundamentally? Can an economically survive long term while artificially held in place? Does a machinery which functions on nothing but production and export really have a bright future?
The five necessary requirements for a reserve currency certainly bring the Yuan's validity in this role, further into question. Here is what it takes to be the world's reserve currency.

The 5 Haves…
1) Deep, liquid, open bond markets
2) Floating currency
3) Property rights, civil rights
4) Political stability
5) Political freedom

Which China Has Not
I would really like to hear debate on some of the five points. For instance, does China's iron fisted #4 lead to the lack of a need for #5? With Tiananmen almost a quarter century in the rear view, if nothing else, the CPC has proven the ability to keep order. By hook or by crook. #3 is an interesting point, China's society certainly is not free, but with deep enough pockets property rights are beyond feasible. Hmmm…this one seems familiar. Can't help much on #1 and #2, anybody have thoughts?
Overall, I have not been nor will I be a China bull any time soon. I think they are just big enough to fail, however, that does not absolve the USD. With recent hiccups in the Eurozone and the refusal of our own sinister central bank to let the Dollar be worth its actual value…maybe that vaunted currency basket world is closer than any of us realize.
Any thoughts?