Wall Street Bonuses, A Haircut For The Holidays

O
)
on 11/18/12 at 4:07pm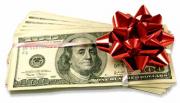 It's WS's favorite time of the year again…bonus season! At least on the surface, things overall are looking good. The Dow was at multi-year highs, the cloud of election uncertainty has cleared, and a recent eFinancialCareers survey finds that 50% are expecting improving conditions. So to quote Chris Cornell, things are "…looking California, and feeling Minnesota." But dig deeper into the books of BB and the stark reality is that despite the nine largest IB having a 38% jump in Q3 trading profits, year-over-year, 1 in 5 IB and traders compensation will fall by 8%. Read on to see who's going to be eating Ramen, who's going on vacation, and why WS doesn't pay (as good as it used to)…


Where The Industry Has Been
Despite the financial collapse, five years ago WS bonuses weren't a topic of public debate. Last year's across the board they were on the chopping block and cut by an average 30% as firms MS and BARC capped their cash portions at $125K and $103K according to Stevens Hall & Partners. Further, a Mercer survey finds that 17% of global banks last year had smaller or no compensation as Europe and North America continue to impose employee risk-taking penalties.
Since then, regulations for higher bank capital requirements, seperation of prop trading functions, and overall lower volumes are to blame in addition to public displays of what I call, compensatory discipline as exampled by co-CEO of DB, Anshu Jain in his statement on bonuses:

Let's level the playing field. It's in your best interests. It's in our best interests. And I would even go far enough and say it's in society's best interests."
Do you agree with Jain's perspective on comp?
Most of these major issues were dealt with last year but continue to be a challenge going into 2012, however the video below addresses some newer issues and I would recommend focusing on Pimm Fox.


What 2012 WS Comp Looks Like
The real kicker according to Michael Karp of Options Group is, "Where are these guys going to go?" Management has kept expectations so low that WS may just be happy with what they get with a chance of a slight upside potential. According to Sorrentino of Steven's Hall & Partners,

Most of the major changes have been made already in terms of lengthening vesting, holding back some pay in the form of deferrals & stock, and the continued use of clawbacks."
Further, Robert Dicks, a principal at New York-based Deloitte Consulting who focuses on compensation and benefits thinks that managing expectations so that there are no surprises is key.
Anybody in industry getting a vibe of managed lower expectations or experiencing something altogether different?
Here's a drill down of what I found…
INDUSRTY
• Over 9K jobs have been cut by the firms above
• Of the 10 largest capital market firms, only UBS is trading north of BV
• RBS is exiting merger advisory & equity trading
• Nomura has cut jobs in its Americas Equities Division
Further deterioration is evidenced by the FT League Tables showing a breakdown of worldwide weakness in IB by fees, deals, and overall.
POSITIONS
• Fixed-income, securitized products, and emerging markets: +6% and +10%
• Equities and IB: -17% and -13%
• Cash equities & option traders : -20% from 2011 levels
• VP traders in credit and loan: $800K from $720K
• VP Equity traders decline: $290K from $370K
*The above figures are from The Options Group, a bank compensation consulting firm.*


In my opinion, Pimm Fox seemingly has a logical argument about WS re-pricing and industry re-engineering. Consider the statement made by MS CEO James Gorman in a recent FT interview that, "…the industry is still overpriced." Further, in the video Michael Moore mentions the de-valuation of some positions that are seeing declines in bonuses. This makes sense, for example equities traders are losing volume and clients to dark pools as well as being front-runned by HFT's if not outright replaced in spite of lackluster P&L. The $64K question now is (especially to perspective WS monkeys), is this a paradigm shift and if not how long will this last?
Fire back and let's hear your comments on what you think is going on and why.
Who Am I? | See what GMngmt is all about at About.Me
+1