Weekend Wars: Inflation vs. Deflation

Points)
on 2/27/11 at 4:45pm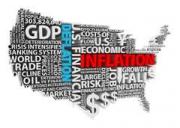 With the New Year no longer so nascent and the recovery drum beating itself and all of us silly...
Perhaps it's a good time for a good debate on prices?
Specifically, the inflationary and deflationary dangers which still hover around our heads like mosquitoes in the summer.
From time to time I like to give a plug to non-household name sources of info.
Today, it is Monty Pelerin's World, a place where classic liberals and unabashed econ geeks can call home. Rejoice and check out some recent pricing figures, boys.
But before getting into the debate, let me humor you guys with the textbook definitions of tonight's players...

Inflation
The rate at which the general level of prices for goods and services is rising, and, subsequently, purchasing power is falling. In other words, with inflation rising, every dollar will buy a smaller percentage of a good. For example, if the inflation rate is 2%, then a $1 pack of gum will cost $1.02 in a year.

Deflation
A general decline in prices, often caused by a reduction in the supply of money or credit. Deflation can be caused also by a decrease in government, personal or investment spending. The opposite of inflation, deflation has the side effect of increased unemployment since there is a lower level of demand in the economy, which can lead to an economic depression. Central banks attempt to stop severe deflation, along with severe inflation, in an attempt to keep the excessive drop in prices to a minimum.

Even by looking at the preceding definitions we can decipher that the linear train of thought looks to evade deflation at all costs.
Keynesians and centralized economy types would scoff at the notion of a comparison... precisely why I find it to be warranted.
As we (supposedly) emerge from the recession, asset prices are still unpredictable.
Once again there's a host of theories as to why this will undoubtedly lead to that but this time around, fewer and fewer people are buying.
The stories coming out of the financial press are far different from those everyday folks are seeing at the pump, the grocery store and upon the arrival of their utility bills.
Curious to hear what your thoughts are...Are inflation and deflation both subtly occurring as we speak?
Better yet, how likely are we to see one of the two beasts become a standard stalwart in our public lexicon in the coming months and years.
The sugar high of QE2 is set to start wearing off...
Take one of my favorite quotes for the road on your contemplative journey:
It is not an endlessly expanding list of rights ??? The "right" to an education; the "right" to health care; the "right" to food and housing. That is not freedom. That is dependency. Those are not rights. Those are the rations of slavery – hay and a barn for human cattle.