Where the Traders At - Market Linked Step Up Notes

IB
Points)
on 7/31/12 at 5:30am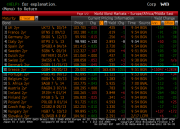 Big banks and brokers offer a suite of investments to their most valued customers. There seems to be something fundamentally not free markets about having access to deeply discounted investments that would otherwise trade higher in the open market. Take for example Market Linked Step Up Notes.
Market Linked Step Up Notes trade using a set of terms based on some underlying index. I know that super high net worth Merrill clients have access to these things at origination. While the terms can vary, a traditional structure is as follows:
1:1 downside on S&P, 15% gain when the S&P is up between 1% and 15% and 1:1 upside for underlying increases above 15%, 1 year tenor, BAC counterparty (counterparty risk).
There is a liquidity premium here, however, the original buyers are getting a steal. They are able to buy in well below the security's intrinsic value. The Market Link Security described above trumps a S&P buy and hold strategy in all scenarios, implying that in an efficient market the security would have to trade above par at issue (not accounting for liquidity or counterparty risk premium).
Questions I pose for you the WS Oasis Community:
1. Who is on the other side of this investment at origination? Is the bank using these notes to raise temporary capital or are they feeding it to institutional investors?
2. I know these are illiquid, but how can you find a record of these securities and terms?
3. Anyone know a broker that would let you short the S&P and go long one of these securities at origination?