Which Way Will Dollar-Yen Break?
AM
Points)
on 8/24/12 at 5:30am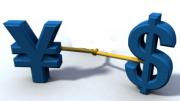 Over the last three months, the Dollar-Yen cross has remained seemingly tethered to a rate in-between 78 and 80. Perhaps pre-crisis this type of price action in a major currency cross would seem more commonplace, but compared to moves in other major currency pairs recently, its felt rather dull. Studying a long-term chart of the cross over the last 20 years one can see the rate has generally trended downward ever since the yen's dramatic strengthening in 1998. Will the rate break down through 78 or up through 80? Below are arguments for the yen finally breaking out in either direction.
Down (Yen Stronger):
Japan has experienced general disinflation or deflation ever since the early 1990s, and although the Bank of Japan recently instituted an inflation target of one percent, there's no guarantee it will work. Just as inflation can drive a currency's value down, the absence of inflation tends to be associated with a currency's strength.
According to the latest FOMC minutes, additional stimulus in the US has become ever more likely. The more the Fed eases, the more inflation expectations increase, and the dollar typically falls.
Both the dollar and yen are considered safe-haven currencies. That is, when risk is decidedly off, these currencies typically rally against most others. The yen also typically gains against the dollar when risk sentiment is negative. Therefore if the global economy continues to slow, the yen could strengthen against the dollar.
Up (Weaker Yen):
Many of these arguments are the opposite of those above- for instance, Japan has been stepping up their purchase programs, which can drive up inflation expectations, and force the yen to weaken.
Although there's talk of QE3 in the US, the most recent trend has been rates retracing a bit higher. When rates rise, their yield becomes more attractive to those searching for yield and can cause the dollar to seem more attractive.
There's also the implicit threat that the Bank of Japan will again intervene and sell yen if it becomes too strong. This has historically happened when the rate reached the mid-70s range.
Japan is currently experiencing both a budget and trade deficit. Although they recently passed legislation to double their sales tax, this isn't expected to make a large enough impact in their debt. With the shutdown of their nuclear power industry since the Fukushima disaster, Japan has been forced to import more energy than usual, hurting their trade balance. Also along with the global slowdown, Japan's exports have continued to shrink.
Lastly, the relatively strong yen has induced Japanese corporations to begin purchasing assets and other firms abroad, which should help to keep its strength tempered.
You can tell from the relative number of arguments which way I think the rate is headed. Which side is your money on?