Ascendiant Capital Group Inc.
Return to Company Database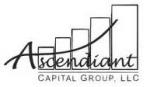 Industry:
Since 2001, Ascendiant has provided capital, strategic guidance, and investment banking support, to public and private emerging growth companies in the United States and selected foreign markets.
The Ascendiant entities include two registered broker-dealers – Ascendiant Capital Markets LLC and Ascendiant Securities LLC – and their two affiliates, Ascendiant Capital Partners LLC and Ascendiant Capital Group LLC, which make direct investments in public companies.
Ascendiant Capital Markets LLC is a full-service investment banking, equity research, market making, and securities trading firm focused on small-cap and micro-cap public companies, and institutional and accredited investors.
Ascendiant Securities LLC advises on and facilitates debt and equity securities offerings through private placements, and provides assistance with mergers and acquisitions.
Locations:
Irvine office
18881 Von Karman Avenue 16th Floor
Irvine
,
CA
,
92612
United States
Boynton Beach office
950 N. Congress Avenue Suite J200
Boynton Beach
,
FL
,
33426
United States
Maitland FL
2700 Westhall Lane Suite 132
Maitland
,
FL
,
32751
United States