Balestra Capital
Return to Company Database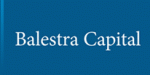 Industry:
Balestra Capital is an investment management firm focused on thematic global macro investing.
Investment Philosophy
Balestra focuses on understanding the impact of economic, political and social events on the world's financial markets in order to produce solid returns while protecting clients' capital.
Portfolio Transparency and Liquidity
The portfolio is invested in liquid instruments across all asset classes and is transparent to investors.
Portfolio Risk Controls
Comprehensive risk management practices include applicable position limits and diversification requirements. Robust risk monitoring processes include scenario analyses to project the portfolio's response to extreme changes in market conditions including potential market and systemic risks.
Operational Risk Controls
Multiple best-in-class prime brokers, counterparties and custodians. Independent administrator and Big-4 auditor. Bilateral collateral agreements limit counterparty risk. Daily three-way NAV reconciliation with independent pricing by administrator.
Investment Team
James Melcher, Norman Cerk, Matthew Luckett, and Robert Chambers are senior members of the portfolio team — an experienced group of investment professionals with expertise across global investment securities and diverse market conditions.
Location:
58 West 40th Street 12th Floor
New York
,
NY
,
10018
United States
Phone: 212) 768-9000
Fax: 212-768-1883