Duncan-Williams, Inc.
Return to Company Database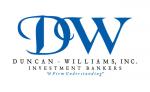 Industry:
Founded by A. Duncan Williams, Duncan-Williams, Inc. is privately owned and headquartered in Memphis, TN. After the death of Mr. Williams in 1989, Carolyn Williams became owner of the parent company. Under the leadership of her son, Duncan F. Williams, President of Duncan-Williams, Inc., the firm has taken the national stage, growing from 49 to 169 employees and opening offices in Akron, Atlanta, Charlotte, Chicago, Cleveland, Houston, Jackson MS, New York and Philadelphia.
With a capitalization of over $26 million and $75 billion (par amount) of bonds sold in the past five years, Duncan-Williams, Inc. is one of the largest "female-owned" investment banking firms in the nation. The firm has been certified as a Women's Business Enterprise (WBE) by The Women's Business Enterprise National Council.
Locations:
Walnut Creek office
2121 N. California Blvd. Suite 290
Walnut Creek
,
CA
,
94596
United States
Philadelphia office
1631 Locust Street 5th Floor
Philadelphia
,
PA
,
19103
United States
Jackson office
198 Charmont Drive
Ridgeland
,
MS
,
39157
United States
Phone: (601) 956-3825
Fax: (601) 956-3468
Cleveland office
6000 Freedom Square Drive Suite 350
Independence
,
OH
,
44131
United States
Phone: (216) 328-3900
Fax: (216) 328-3901
Charlotte office
309 E. Morehead Street Suite 260
Charlotte
,
NC
,
28202
United States
Atlanta office
3350 Riverwood Parkway Suite 2100
Atlanta
,
30339
United States
New York office
1350 Avenue of Americas Suite 820
New York
,
10019
United States
Houston office
11458 West Travelers Way Circle
Houston
,
77065
United States
Phone: (866) 394-0236
Fax: (281) 890-6439
Chicago office
203 North La Salle Suite 2100
Chicago
,
60601
United States
Phone: (312) 827-7968
Fax: (312) 346-9603
Charlotte office
10710 Sikes Place Suite 175
Charlotte
,
28277
United States
Phone: (704) 365-9690
Fax: (704) 365-8420
Akron office
3560 West Market Street Suite 215
Fairlawn
,
44333
United States
Phone: (330) 665-4390
Fax: (330) 576-6999
Memphis office
6750 Poplar Avenue Suite 300
Memphis
,
38138
United States
Phone: (901) 260-6800
Fax: (901) 260-6994