Dutchess Capital Management
Return to Company Database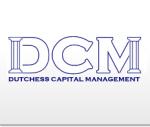 Industry:
Dutchess Private Equites Fund, LTD is engaged in assisting growth companies in all facets of their long-term strategy by providing capital and progressive business solutions. Through Dutchess Private Equities Fund Ltd. we manage a portfolio of private investments in micro-small cap companies.
These companies span a wide array of industries including; Telecom & VoIP, Wireless Communications, Healthcare, Biotechnology, Medical Device, Internet, e-Commerce, Technology, Media, Oil & Gas, Defense, Homeland Security, Nuclear Sciences, Precious Metals, Manufacturing, Apparel, Textiles, Consumer Products and Alternative Energy.
With offices in Boston, MA and LaGrangeville, NY, Dutchess has assisted in facilitating the growth of companies located throughout North America and Europe.
Location:
50 Commonwealth Ave. Suite 2
Boston
,
MA
,
02116
United States
Phone: (617) 301-4701
Fax: 617-249-0947