Green Manning & Bunch, Ltd.
Return to Company Database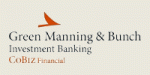 Industry:
Green Manning & Bunch is a 23-year-old middle-market investment bank based in Denver. GMB Managing Directors are experts in their fields, offering mergers and acquisitions, private financing and financial advisory services to a number of industries. GMB's industry practices include Building Materials & Services, Healthcare, Industrials and Technology. The bank's Phoenix-based Managing Director handles M&A and private placement deals in additional industries, and our GMB Business Advisors are lower middle-market experts. Whether you are buying or selling a company, raising capital or planning an ownership transition, GMB provides Expertise, Focus and Results -- since 1988.
Locations:
Denver office
1515 Wynkoop St. Ste. 800
Denver
,
CO
,
80202
United States
Phoenix office
2600 North Central Ave. Ste. 2000
Phoenix
,
AZ
,
85004
United States