Anyone ever burnt bridges on the way out? Let hear it...
(Gorilla, 599 )
on 1/9/13 at 4:00am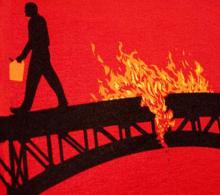 So I've officially accepted a position with a BB's IBD, but due to scheduleing and paperwork I don't expect to start prior to March.
In the mean time I'm going out of my skull at my current ER position. I don't want to take a month off in between gigs, and being my cautious self I don't want to drop that I'm planning on leaving yet, just in case something goes wrong prior to actually starting.
Basically, it's beautiful to be sitting here knowing that I'm done before we get hit with the next big reporting season, and I'm looking forward to giving notice to see if they throw me out or want me to stay and train my replacement. On the other hand it's killing me to wait and keep grinding on the models. Worried I might rage quit next time I get asked to do something stupid.
Currently, I'm fantasizing about different ways to quit, wordings for the final email etc.. Anyone ever quit in a great way?
company wide email about someone having an affair or calling the boss out on the way down the elevator?
The WSO Advantage - Land Your Dream Job
These 6 FREE Financial Modeling Lessons
Can Help You Land Your $100k+ Dream Job
Our Fun Excel Training and Challenge Contest
DCF Modeling, Tons of Free Templates & Video Tutorials
Valuation Lesson on Trading Comps
Cash Flow Modeling and more!
I would normally sell this for at least $200, but we're offering it for free as a sweet bribe to join our community of 350,000+ members. See you on the inside!
Lazy? Join us and get the 6 free lessons with 1 click below!
6 Free Financial Modeling Lessons...and More.
Enter e-mail to get our Modeling Tutorials (Worth $200+)
Upcoming Events
Oct 10 2015 - 8:00am

to

Oct 11 2015 - 8:00am

Oct 10 2015 -

1:00pm

to

2:00pm

Oct 11 2015 - 8:00pm

to

Oct 12 2015 - 9:00pm

Oct 14 2015 - 8:00am

to

Oct 15 2015 - 8:00am

Oct 14 2015 -

6:00pm

to

7:00pm
Poll
Long term, which career path interests you the most?
Accounting
0%
Asset Management
8%
Commercial Banking
1%
Consulting
5%
Corporate Finance / Strategy / Development
8%
Entrepreneurship
6%
Equity Research
4%
Fintech
2%
Hedge Fund
21%
Investment Banking
9%
Investment Advisor / PWM
1%
Private Equity
17%
Prop Trading
1%
Real Estate
5%
Sales & Trading
3%
Venture Capital
5%
Other Finance Role (academia, non-profit, government, legal, etc)
1%
Other - Non Finance
2%
Total votes: 490