Are American businesspeople losing faith in their country?
Pages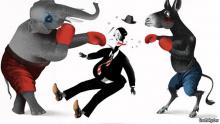 Story from the economist American idiocracy - The civil war in Washington, DC, is damaging American business

American companies are sitting on a gigantic pile of cash; Apple alone has $76 billion in the bank. Why won't corporate America invest in America? It does not help that domestic demand is feeble, and that the global economy is in turmoil. But American politicians deserve some of the blame. Their unpredictability erodes confidence. The gulf between American business and the Obama White House is growing ever wider, as business-friendly insiders (such as Larry Summers, an economic adviser) leave the administration. Even more dangerously, the gulf between business and the rest of the country is widening: opinion polls show that American businesspeople are losing faith in their country even as ordinary Americans are losing faith in business. Calvin Coolidge's statement was once denounced as the height of bourgeois complacency. Today it sounds like a reminder of an America that is in danger of disappearing.
thoughts monkeys?
The WSO Advantage - Land Your Dream Job
These 6 FREE Financial Modeling Lessons
Can Help You Land Your $100k+ Dream Job
Our Fun Excel Training and Challenge Contest
DCF Modeling, Tons of Free Templates & Video Tutorials
Valuation Lesson on Trading Comps
Cash Flow Modeling and more!
I would normally sell this for at least $200, but we're offering it for free as a sweet bribe to join our community of 350,000+ members. See you on the inside!
Lazy? Join us and get the 6 free lessons with 1 click below!
6 Free Financial Modeling Lessons...and More.
Enter e-mail to get our Modeling Tutorials (Worth $200+)
Upcoming Events
Oct 14 2015 - 8:00am

to

Oct 15 2015 - 8:00am

Oct 14 2015 -

6:00pm

to

7:00pm

Oct 15 2015 (All day)

to

Oct 16 2015 (All day)

Oct 15 2015 - 8:00am

to

Oct 16 2015 - 8:00am
Poll
Long term, which career path interests you the most?
Accounting
0%
Asset Management
8%
Commercial Banking
1%
Consulting
5%
Corporate Finance / Strategy / Development
8%
Entrepreneurship
7%
Equity Research
4%
Fintech
2%
Hedge Fund
20%
Investment Banking
9%
Investment Advisor / PWM
1%
Private Equity
17%
Prop Trading
1%
Real Estate
5%
Sales & Trading
3%
Venture Capital
5%
Other Finance Role (academia, non-profit, government, legal, etc)
1%
Other - Non Finance
2%
Total votes: 532