Are you a specialist or a generalist?
PE
Points)
on 6/12/12 at 9:56am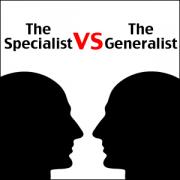 I just read this article on the Harvard Business Review and it got me thinking:
http://blogs.hbr.org/cs/2012/06/all_hail_the_generalist.html?cm_mmc=email-_-newsletter-_-weekly_hotlist-_-hotlist061112&referral=00202
I've always been told that while it is better to be a generalist when starting out in a career (applicable to all jobs but especially in banking where buyside recruiting trends dictate candidate preferences for groups like M&A and Leveraged Finance), one must begin to specialize in a particular industry/area/sector in a few years and become a subject matter expert in the said field. This made perfect sense to me before I read this article, which sort of defies conventional wisdom.
Do people who continue on this generalist path become more successful and rise to the top quicker than those who have made a concerted effort to specialize? What do you think monkeys?