Artistic Expression Goes Wild In The Financial District

IB
Points)
on 10/29/08 at 5:12pm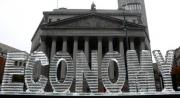 A 1,500-pound ice sculpture carved to spell the word "Economy" was placed on public display in Manhattan's financial district this afternoon.
The exhibition, created by artists Nora Ligorano and Marshall Reese is called 'Main Street Meltdown' and is expected to melt in less than 24 hours. Hopefully it will take a little while longer for the actual economy to be reduced to a luke warm puddle of soiled liquids.
But if you're in the NYC area stroll over to Foley Square to take a look, or just stop by the artist's website for a live feed.
Apparently, the NYC financial district is home to a lot of artistic expression these days. Last week a local artistic printmaker passed out fake 1 dollar bills emblazoned with zeroes outside the NYSE. And don't forget about Geoffrey Raymond, the dude who paints those colorful portraits of disgraced executives and leaves them in public to be 'tagged' by angry ex-employees. That guy is doing some solid work. And don't make me give you guys a history lesson about the famous 'Wall Street Bull' sculpture. That too was created as an artistic act of civil disobedience in the 80s, but was more of an homage to the strength of our financial system rather than a pejorative jab at its weakness.
But a melting block of ice in the shape of the word 'Economy'? I think this one is making up for the lack of creativity with an increased production value. The spectacle of it all! Maybe they just should have stuck to making a statement about global warming?