No Industry Selected - No Status Selected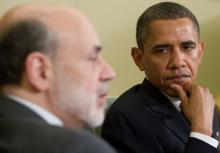 Thoughts on this? Heister brings up a good question: "Who else is going to the job? Which senior Goldman partner is planning on retiring and needs to shield millions in stock options from taxes?"
via Bloomberg:
Obama Says Bernanke Has Been at Fed 'Longer Than He Wanted'
President Barack Obama said Federal Reserve Chairman Ben S. Bernanke has stayed in his post "longer than he wanted," one of the clearest signals the central bank chief will leave when his current term expires next year.

"Ben Bernanke's done an outstanding job," Obama said in an interview with Charlie Rose that aired yesterday, when asked about nominating him for another term subject to Senate approval. "He's already stayed a lot longer than he wanted or he was supposed to."
Obama likened Bernanke's tenure to that of outgoing Federal Bureau of Investigation Director Robert Mueller, who stayed on for two years after his term expired in 2011 and is leaving his post in September. Bernanke's second four-year stint at the central bank ends Jan. 31.
Upcoming Events
May 24 2016 - 8:00am

to

May 25 2016 - 8:00am

May 29 2016 (All day)

to

May 30 2016 (All day)

Jun 1 2016 - 8:00am

to

Jun 2 2016 - 8:00am

Jun 8 2016 - 8:00am

to

Jun 10 2016 - 5:00pm

Jun 15 2016 -

7:30pm

to

8:30pm
Poll
Who is your favorite Hedge Fund manager?
Bill Ackman
12%
Steve Cohen
7%
Ray Dalio
17%
Ken Griffin
8%
Carl Icahn
10%
Jim Simmons
5%
George Soros
11%
David Tepper
6%
David Einhorn
9%
Seth Klarman
8%
Other / None of the above
6%
Total votes: 405