Bye Bye Bernanke? Who Would Be Next?
(Chimp, 3 )
on 6/18/13 at 10:31pm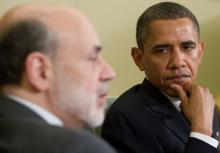 Thoughts on this? Heister brings up a good question: "Who else is going to the job? Which senior Goldman partner is planning on retiring and needs to shield millions in stock options from taxes?"
via Bloomberg:
Obama Says Bernanke Has Been at Fed 'Longer Than He Wanted'
President Barack Obama said Federal Reserve Chairman Ben S. Bernanke has stayed in his post "longer than he wanted," one of the clearest signals the central bank chief will leave when his current term expires next year.

"Ben Bernanke's done an outstanding job," Obama said in an interview with Charlie Rose that aired yesterday, when asked about nominating him for another term subject to Senate approval. "He's already stayed a lot longer than he wanted or he was supposed to."
Obama likened Bernanke's tenure to that of outgoing Federal Bureau of Investigation Director Robert Mueller, who stayed on for two years after his term expired in 2011 and is leaving his post in September. Bernanke's second four-year stint at the central bank ends Jan. 31.
The WSO Advantage - Land Your Dream Job
These 6 FREE Financial Modeling Lessons
Can Help You Land Your $100k+ Dream Job
Our Fun Excel Training and Challenge Contest
DCF Modeling, Tons of Free Templates & Video Tutorials
Valuation Lesson on Trading Comps
Cash Flow Modeling and more!
I would normally sell this for at least $200, but we're offering it for free as a sweet bribe to join our community of 350,000+ members. See you on the inside!
Lazy? Join us and get the 6 free lessons with 1 click below!
6 Free Financial Modeling Lessons...and More.
Enter e-mail to get our Modeling Tutorials (Worth $200+)
Upcoming Events
Oct 7 2015 - 8:00pm

to

Oct 10 2015 - 5:00am

Oct 7 2015 - 8:00pm

to

Oct 8 2015 - 8:00pm

Oct 8 2015 -

7:00am

to

9:30am

Oct 8 2015 -

7:00am

to

8:00am
Poll
Long term, which career path interests you the most?
Accounting
0%
Asset Management
7%
Commercial Banking
1%
Consulting
5%
Corporate Finance / Strategy / Development
8%
Entrepreneurship
7%
Equity Research
4%
Fintech
2%
Hedge Fund
19%
Investment Banking
9%
Investment Advisor / PWM
1%
Private Equity
17%
Prop Trading
1%
Real Estate
5%
Sales & Trading
3%
Venture Capital
5%
Other Finance Role (academia, non-profit, government, legal, etc)
1%
Other - Non Finance
2%
Total votes: 436