Chewing Tobacco at the office
Accounting - Audit - Student / Prospective Monkey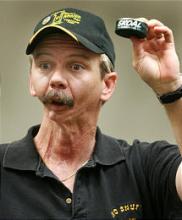 Dippin. Baseball players have been doing it on the job for years. I know some (maybe even the majority) of us use tobacco products. My question today is: How acceptable is it to chew tobacco in the office. I'm not saying in the middle of a meeting, obviously be respectful with it. But working on your computer for a few hours and having a fat chew... acceptable or a mistake?
What are your thoughts about tobacco users in the office? hurt them at all (other than their health)?
Or is there like some sort of unwritten rule on hierarchy? The older you are, the more you can prance around chewin and smokin fat cigars?
A noob in the industry looking for a little insight on the aquired rules by a vet of the office.
The WSO Advantage - Land Your Dream Job
Upcoming Events
Nov 24 2015 -

5:00pm

to

6:00pm

Nov 29 2015 -

12:00pm

to

1:00pm

Dec 2 2015 - 8:00am

to

Dec 4 2015 - 5:00pm

Dec 2 2015 -

7:00pm

to

8:00pm

Dec 7 2015 -

7:00pm

to

8:00pm
Poll
Long term, which career path interests you the most?
Accounting
1%
Asset Management
10%
Commercial Banking
1%
Consulting
4%
Corporate Finance / Strategy / Development
9%
Entrepreneurship
6%
Equity Research
3%
Fintech
2%
Hedge Fund
18%
Investment Banking
9%
Investment Advisor / PWM
1%
Private Equity
16%
Prop Trading
2%
Real Estate
6%
Sales & Trading
3%
Venture Capital
6%
Other Finance Role (academia, non-profit, government, legal, etc)
1%
Other - Non Finance
2%
Total votes: 1164