Da fuq just happened in my interview?
Points)
on 7/7/12 at 1:00am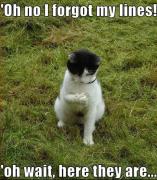 I just got off a 2nd round interview with a S&T desk. The interview format: 3 MDs got on the phone 1 by 1 to interview me.
First MD: I absolutely bombed, was beyond horrid. I couldn't even do basic calculations because of nerves
Second MD: Did pretty well, no errors, answered every question thoroughly, but took an extremely long pause on one question and asked my interviewer to repeat his question.
Third MD: Crushed it
At the end of the call the Third MD asked me what I knew about options, to which I replied "I have a working knowledge of options and the purposes they serve, but I am not familiar with the nitty gritty details, and I have never traded options before." He ends the call by telling me to learn options and be ready to talk about them on Monday.
I'm a little thrown off because I was the most incompetent someone could be with the first guy, so I assumed I got auto dinged right there. Did I advance or is this still part of my current interview?