David Einhorn is one of my Favorite People

IA
Points)
on 6/22/12 at 3:00pm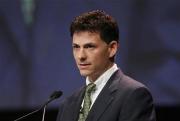 The more I learn about David Einhorn, the more I admire him. Not only does he run a veru successful hedge fund, but he is known as an excellent and ruthless stock picker. He can't open his mouth about a stock without the stock moving.
Someone posted on the Herbalife conference call thread a conspiracy theory that Einhorn maybe be preparing to wage war on public Multi-Level Marketing firms. As a firm hater of the business model I'm hoping this conspiracy is true (for those of you who have no idea what I'm talking about:

The story is not over. At the conference, one of Einhorn's first slides just was completely white and had "MLM" in the middle. He said something like: "Today I want to talk about a company with material issues on many levels." I'm sure everyone though MLM meant multi-level marketing and not Martin Marietta Materials.
David Einhorn if you read this, keep doing what you're doing. You're a badass and an inspiration.
He's also a very good poker player. I started playing online poker at 15 and I've played at a WSOP event. But like Einhorn, poker is just a hobby that I want to continue pursuing as I make more money. He's now playing the biggest tournament ever: the $1 million dollar buy-in charity tournament at WSOP. I hope takes it down.
http://www.bloomberg.com/news/2012-06-21/einhorn-will-play-1-million-buy-in-charity-poker-tournament.html