Does anyone else have an awesome boss?

IB
Points)
on 6/15/12 at 11:00pm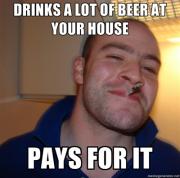 I've recently seen a spike in "Omg my boss is so dum" or "My boss keeps yelling at me i hate him what do??" type threads, probably due to the start of the summer intern season.
I can honestly say, I enjoy being around my boss. He's a very intense guy, but never acts irrationally or looks down upon his employees. I was originally offered a spot as an unpaid intern, but he called soon after and told me that I'd definitely be getting paid for my work. You don't get this very often, as a summer intern at a BB PWM shop.
So, does anyone else have a cool boss, or is it a rare occurrence?