Don't move to China, Don't study Mandarin

Points)
on 6/13/12 at 10:32pm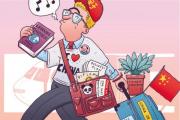 Looking to Get Ahead? China Doesn't Want You!
Joe Phillips seemed like an ideal candidate to make it in China. Half-Chinese, with a bachelor's degree in East Asian studies, business experience, $20,000 in savings, and an affable disposition, he set off for Beijing with a friend from Seattle in the fall of 2010 to start a company that would bring microbrews from the Pacific Northwest to the largest beer market in the world. "The land of milk and honey was calling," he says.
A year later, the milk had curdled. The cost of getting a foreign-owned business approved in China turned out to be much higher than he'd expected. He ran into bureaucracy at every step, from obscure customs forms to opaque transport regulations. And after expressing initial enthusiasm, bar and restaurant owners stopped returning his calls. "It fizzled out," says Phillips, who returned to the U.S. broke. "Any entrepreneur that thinks they're just going to go to China and start a small business—that's crazy."
As its economy grew over the last couple of decades, China developed a reputation as a place where foreigners could launch a business or career, perhaps even faster than at home. A few have. As 24-year-old American expat Jonathan Levine wrote in an optimistic New York Times Op-Ed earlier this year, "China wants you. Job prospects are abundant." Stuck doing public relations in Connecticut after graduation, Levine blasted out his résumé to schools around the world and landed a plum gig teaching American culture and English at Tsinghua University in Beijing, known as China's MIT. Such stories confirm the narrative many Americans are telling themselves despite reports of a Chinese slowdown: Our ship is leaking while China's is steaming ahead. And so parents enroll their kindergartners in Mandarin, study-abroad programs flourish, and nimble young graduates like Levine seek their fortune in China.
As in any gold rush, few strike gold. "There's this perception that China is a land of opportunity where any foreigner can succeed, which is not really true," says Michael Thorneman, partner and head of China operations for Bain & Co., which advises numerous multinationals on hiring decisions. "They don't necessarily want us here," says Mathew Alderson, a Beijing-based lawyer for international law firm Harris & Moure. "America is a nation built on migrants, but China can't say the same."
If you're a recent graduate but don't want to teach English, well-paying jobs that'll advance you professionally don't abound. And in lucrative sectors such as banking, private equity, and management consulting, it's becoming harder for an American to find good work.
For the lucky few who do, the bureaucratic roadblocks can be comical: The Chinese government has recently imposed a 50 percent "social benefits tax" on all foreigners, though it hasn't clarified how the tax should be paid. One foreigner went to the Beijing tax office to pay, only to be met with bemusement from the officers on duty. (He refused to be named for fear of offending the government and having it negatively affect his business.) Getting the proper Visa can be a tortuous process, and Beijing police have recently launched a crackdown on foreigners working illegally, requiring expats to carry passports, visas, and resident permits at all times or risk deportation.
Given the choice between a Westerner with decent Mandarin and an educated, English-speaking local applicant, companies will favor the Chinese. "We almost only recruit PRC nationals or Chinese speakers," says Thorneman. Those candidates—bright Harvard- and Wharton-educated returnees—are multiplying. In 1995 fewer than 24,000 Chinese students went abroad for education, according to EIC Group China, a provider of educational services. By 2010 that number had risen to 285,000. Not only are Chinese-born prospects more abundant and better suited to the environment, they're also cheaper. Hiring a foreigner from a developed country to work in China costs 50 percent to 200 percent more than a local hire, according to a 2011 study by human resources consulting firm Aon Hewitt (AON).
Multinationals still need foreigners, Thorneman says, but the available jobs are mostly mid- to senior-level. Even the top ones are becoming more local, with only 6 percent of multinational executive positions in Asia going to candidates from outside Asia, according to the Wall Street Journal. As for Chinese companies, plenty seek English speakers to interact with clients overseas or Caucasian faces to parade before investors. But foreigners in Chinese organizations might encounter resistance. When working at a top Chinese private equity firm, where he helped raise almost $2 billion in capital, Mattan Lurie had a prospective investment target ask to be introduced to his Chinese colleagues. "My reaction was, why do you need to deal with someone who's the same race as you?" says Lurie. "But that's the way it is."
Power and Money do not change men; they only unmask them